Vietnam visa for Indonesia citizens
Indonesian passport holders can visit Vietnam visa-free for a maximum duration of 30 days. If they meet the following requirements:
Indonesian passport must be valid for at least 6 months beyond the arrival date.
Passport has at least 2 blank visa pages.
Visa requirements
| Type of visa | Requirements | Maximum stay |
| --- | --- | --- |
| Tourist visa | Visa not required | 30 days |
| E-visa | Not Eligible | N/A |
How to apply
Visitors from Indonesia can choose one of the three available methods below to get a visa for Vietnam.
Visa on arrival
Visa at embassy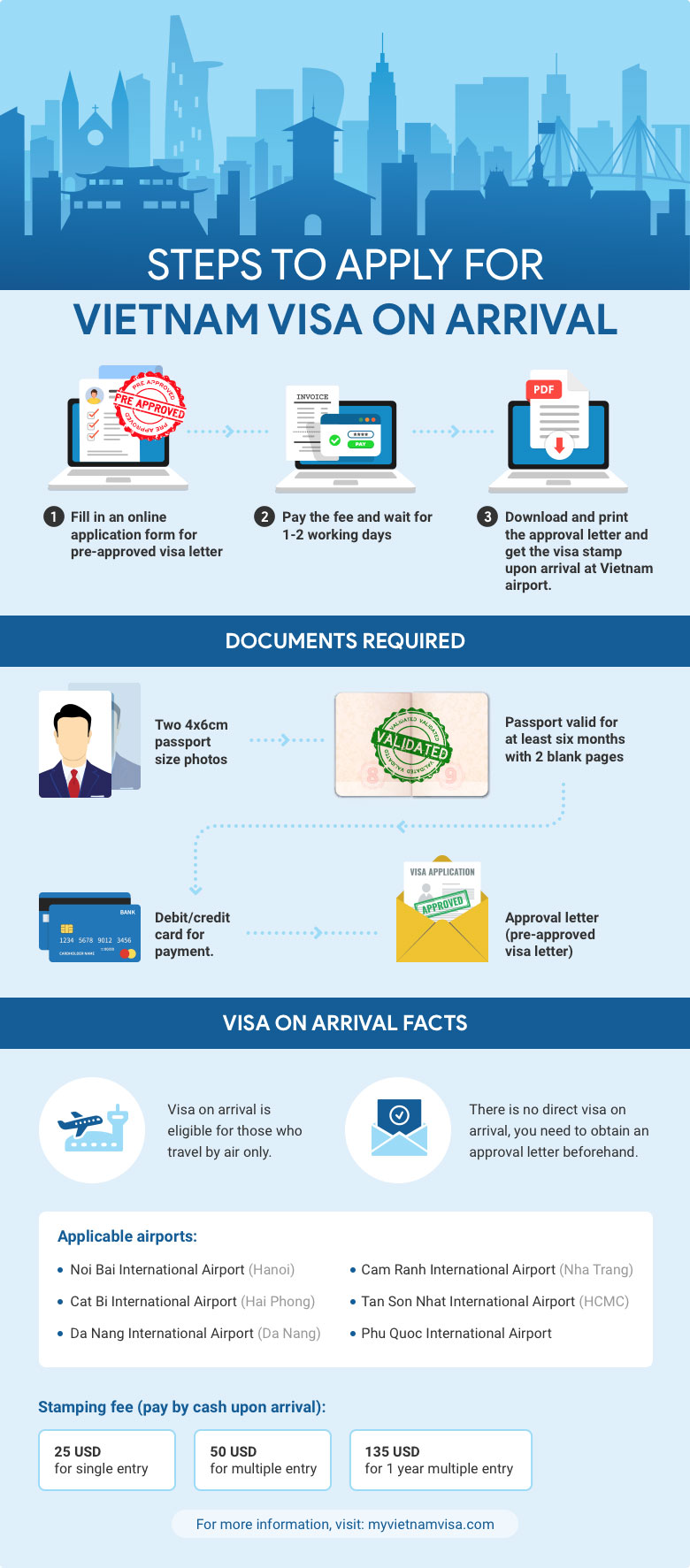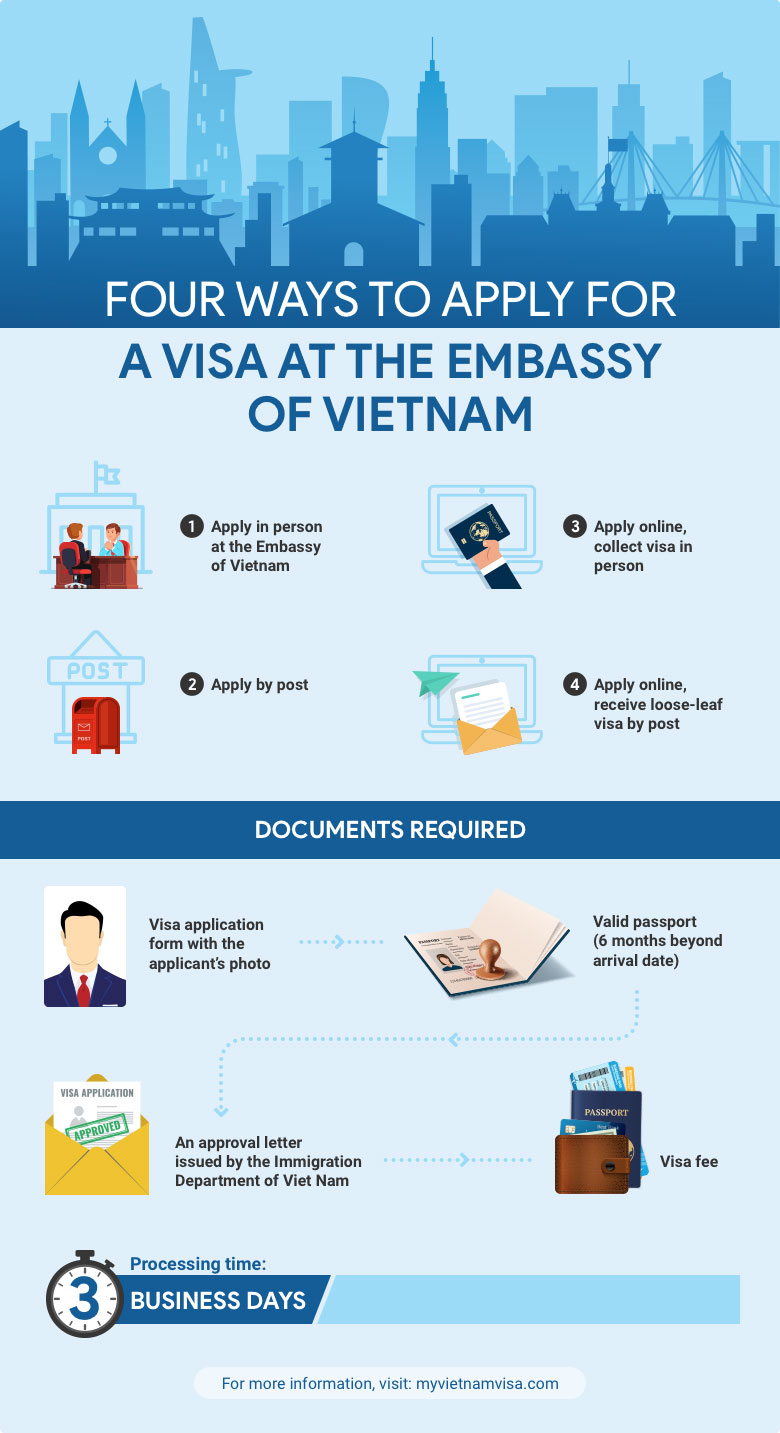 Embassy and Consulate of Vietnam in Indonesia
City
Address

Jakarta

Jl. Teuku Umar. No 25, Jakarta Pusat, Jakarta


Close now
Vietnam visa fees for ID residents
Visa types
Standard processing (5-7 working days)
Urgent processing (2 working days)
1 Month Multiple Entry (Tourism)
1,075,480 IDR
3 Month Multiple Entry (Tourism)
1,075,480 IDR
3 Month Single Entry (Tourism)
707,165 IDR
1 Month Single Entry (Tourism)
707,165 IDR
Standard Processing time: e-Visa will be processed by 18:30 December 13, 2023 (Local Yogyakarta time).
Information for ID passports traveling to Vietnam
Do Indonesian passport holders need a visa for Vietnam?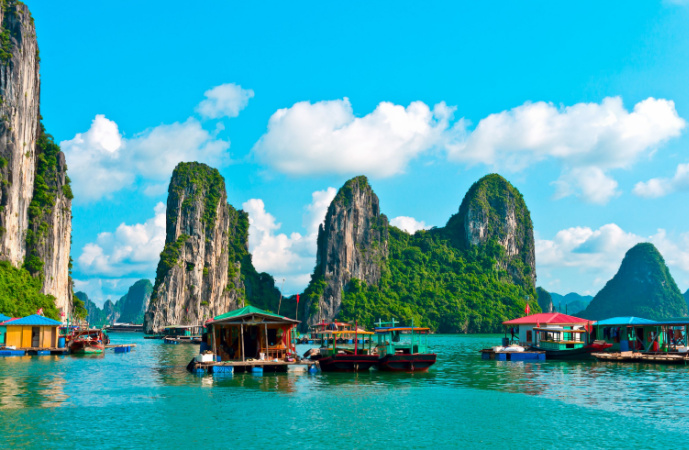 Indonesian citizens are allowed to enter Vietnam without a visa for a period of up to 30 days. Here are some requirements to be eligible for the visa exemption program:
You must have a valid Indonesian passport with at least six months of validity beyond the departure date from Vietnam.
The passport has at least two blank pages for visa stamps. 
If you plan to stay in Vietnam for longer than 30 days, you will be required to obtain a visa.
Visa requirements in brief:
Entry visa:

Not required for stays up to 30 days

Document required:

Valid Indonesian passports (Minimum 6 months)
Proof of onward travel

Embassy location:

Tourism statistics:

2023: 20,911 visitors
2022: 26,338 visitors
2020: 21,446 visitors
2019: 106,688 visitors
2018: 87,941 visitors
2017: 81,065 visitors
How to apply for a Vietnamese visa in Indonesia
Expatriates, foreign visitors in Indonesia, and Indonesian nationals planning to stay in Vietnam for more than 30 days can apply for a Vietnam visa at the Vietnamese Embassy in Indonesia, get a visa on arrival, or request an e-visa.
Visa at the Vietnam Embassy in Indonesia
In order to obtain a Vietnam visa at the embassy in Indonesia, you must provide the required documents such as a completed application form, passport photos, and the applicable fee, directly to the embassy in the country. After your application is processed, you can collect your visa in person or have it mailed to you.
Apply for e-visa online
Indonesian residents can also apply for a Vietnam e-visa on the official website of the Vietnam Immigration Department at https://evisa.xuatnhapcanh.gov.vn/.
The application procedure is conducted online and you must provide a scanned copy of your passport, a passport-sized photo, and payment of the visa fee through the website (25 USD ~ 370938 Rp) then receive your visa via email.
Apply for a visa on arrival
If you are planning to travel to any of Vietnam's international airports by air, you can contact a Vietnam travel agency or a visa company to apply for a visa approval letter. Obtain the approval letter via email then present it along with an entry and exit form, two passport-sized photos, and the visa stamping fee at the airport.
How much is the visa fee for Indonesian passports?
Fee comparison 
E-visa 

Visa on arrival

25 USD ~ 370938 Rp

Approval letter fee: depending on types of visa and stay durations
Stamping fee:

Single entry: 25 USD ~ 370938 Rp
Multiple entry: 50 USD ~ 741877 Rp
Travel tips for Indonesian citizens visiting Vietnam
How to get there
Transferring between Indonesia and Vietnam is pretty easy with just only one layover. You can take flights provided by Vietnam Airlines, Garuda Indonesia, AirAsia, and Lion Air.
Jakarta - Hanoi
| Route | Airlines  | Estimated prices (per person/ one way) |
| --- | --- | --- |
| Jakarta - Hanoi | AirAsia | 1704816 Rp |
| Jakarta - Hanoi | Scoot | 2967643 Rp |
Medan - Ho Chi Minh City
| Route | Airlines  | Estimated prices (per person/ one way) |
| --- | --- | --- |
| Medan - Ho Chi Minh City | Indonesia AirAsia | 1010261 Rp |
| Medan - Ho Chi Minh City | AirAsia | 1010261 Rp |
Weather information
In general, both Vietnam and Indonesia have similar weather and temperature patterns.
Climate: Vietnam and Indonesia are both tropical countries, resulting a hot and humid weather throughout the year. 
Weather: In Vietnam, the weather can be divided into two seasons: the dry season and the rainy season. The dry season starts from November to April, while the rainy season is from May to October. In Indonesia, the climate is more varied due to the country's size and geographical location. However, most parts of Indonesia have a tropical climate with high humidity. The rainy season in this country varies depending on the region, but usually occurs from October to April.
Temperature: The average temperature in Vietnam is around 25-30°C (77-86°F) throughout the year, with temperatures being slightly cooler in the north during the winter months. In Indonesia, the temperature ranges from 25-32°C (77-90°F).
Questions and Answers (02)
Q
Vieka
Indonesia on May 26, 2023
Hi, I am Indonesia. Can I travel to Vietnam multiple times without Visa? Lets say I visit Vietnam for two weeks, visit Cambodia 1 week and go back to Vietnam? I want to fly in and out from Vietnam. Thank you
A
Lina Tran
Answered on May 27, 2023
@Vieka, Yes, that is fine. Make sure each of your entry is no longer than 30 days, then you can exit and re-enter as many time as you wish!
5 people found this helpful
Q
Gino L. Vanderkley
Indonesia on April 30, 2023
I am an Indonesian citizen and I want to apply for a 3 month, multiple entry tourist visa. However, in the website it states that Visa on arrival has not been available since March 2020. So I want to ask for some guidance on how I can obtain a Tourist Visa.
A
Lan
Answered on April 30, 2023
@Gino L. Vanderkley, 3 month visa is not available at the moment. However, as an Indonesian, you can enter Vietnam for 30-day under visa-free policy.
3 people found this helpful
Frequently asked questions
1. Can Indonesian passports apply for a 3 month visa?
2. Do Indonesian citizens need a visa to visit Vietnam?
Indonesian nationals are exempt from a Vietnam visa up to 30 days. If you want to stay longer than this period, you need a visa.
3. What is the charge for a Vietnam visa on arrival?
To obtain a visa on arrival, you need to pay two kinds of fees: the fee for approval letter which depends on the type of visa and duration and the stamping fees at the airport. It costs 25 USD ~ 370938 Rp for a single entry and 50 USD ~ 741877 Rp for multiple entries.
4. Is there a Vietnam embassy in Indonesia?
Yes. The location of Vietnam embassy in Indonesia is at No.25 JL. Teuku Umar, Menteng, Jakarta-Pusat.
Why apply with us
99% on time delivery
Easy & simple form
15+ years of experience
No hidden charges
100% money back guarantee for declined applications
Apply Now
Need more help?
Contact us at:
Questions? Chat with us!)
(8.00 AM-16.00 PM, GMT+7, Whatsapp)
Sun Dec 03 2023,
22:14:00
(Hanoi)