Vietnam Visa On Arrival
In brief, Vietnam visa-on-arrival is a process of obtaining the pre-approved visa letter (visa approval letter) through a travel agency in Vietnam to check in at the departure airport and pick up the actual visa stamp at an international airport in Vietnam upon arrival.
Who are eligible
Most visitors to Vietnam require a valid visa to visit the country and are eligible to apply for a visa on arrival as long as they enter Vietnam by air at one of the International airports in Vietnam.
Visa exemption: Updated list of 2021
Additional notes:
Visa on arrival is applicable for air travel only. If you enter Vietnam by land or cruise, you are required to obtain a full visa before you arrive.
Your passport must be valid for at least 6 months beyond your planned stay in Vietnam.
If you travel with children having their own passports, you are also required to pay the same fees as adults.
The stamping fee at Vietnam airport is payable in cash only, no credit cards are accepted.
There is NO OFFICIAL website for visa on arrival service. All websites offering the pre-approved visa letter are private agencies. Do not get confused by bulk of websites with organizational internet domain TLDs (org, gov..ect).
Visa-on-arrival documents:
With the approval letter (Image 1) that you obtain through our service, you are able to get your visa stamp (image 2) on arrival at Vietnam airport.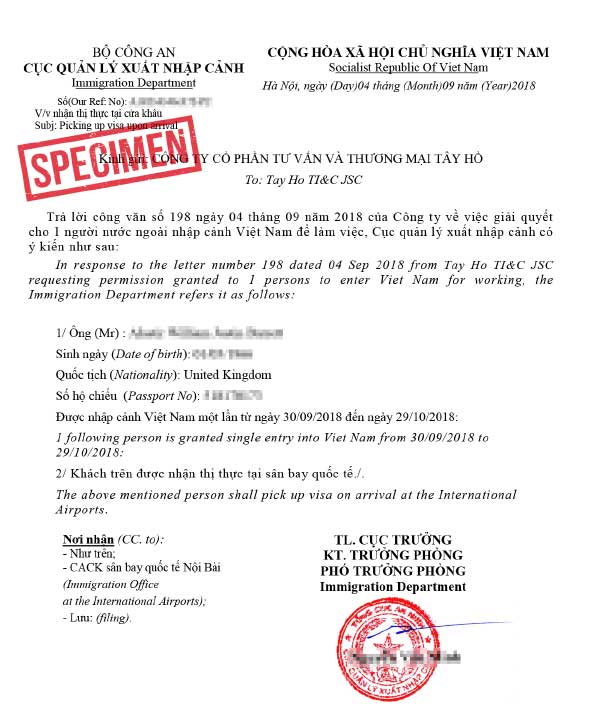 Visa approval letter of 2020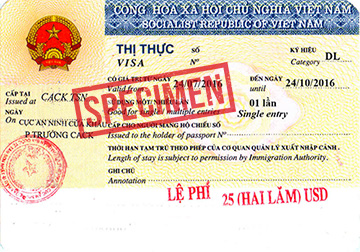 Visa stamp at Vietnam airport
Business visa on arrival
A foreign national traveling to Vietnam to conduct temporary business needs to apply for a business/working visa (categorized under LD/DN visa type). Please check out business visa page for details.
Visa on arrival fees
The visa on arrival fee will depend on the type of visa you are applying for, below is a sample fee for tourist visa on arrival.
| TYPE OF VISA | SERVICE FEES | STAMPING FEE |
| --- | --- | --- |
| Single entry - 1 month | 18 USD | 25 USD |
| Multiple entry - 1 month | 23 USD | 50 USD |
| Single entry - 3 month | 28 USD | 25 USD |
| Multiple entry - 3 month | 43 USD | 50 USD |
| Multiple entry - 12 month (US passports) | 60 USD | 135 USD |
The stamping fee is payable by cash at Vietnam airport in Vietnamese Dongs and US dollars (credit cards are not accepted). Please see our fee page for more detailed instructions.
Visa-on-arrival counter photos:
Visa Counter Signs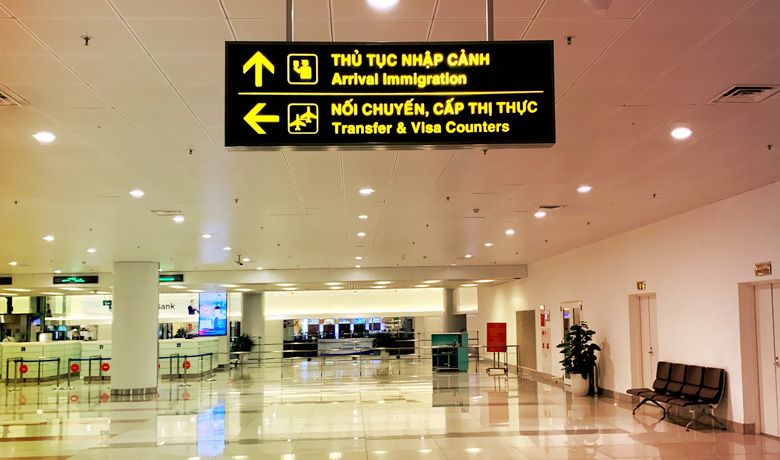 When you land at Hanoi airport, you will see a sign for transfer or visa counters. If you hold a passport with visa-free entry or already have an advance visa, you can go straight to the Arrival Immigration, otherwise you need to turn left for the visa on arrival counters.

Visa Application Counter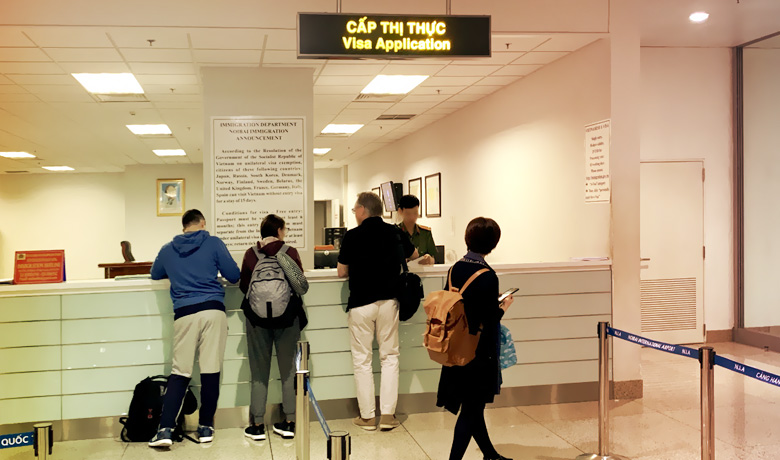 Customers are handling visa application to the Immigration officers (Noi Bai International Airport, Hanoi)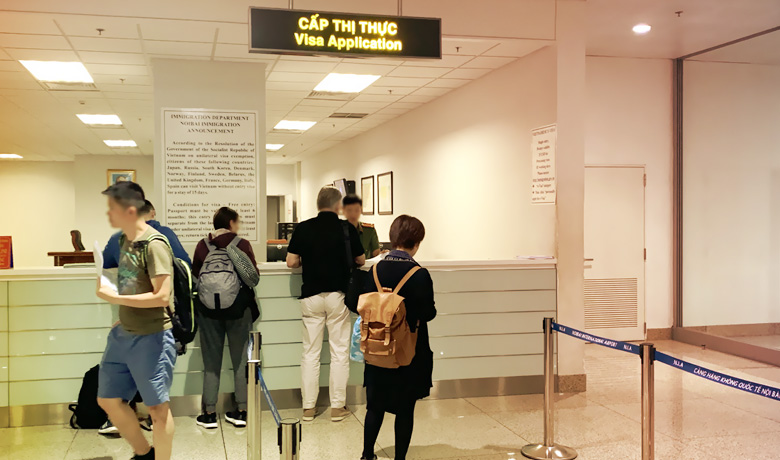 Applicants will go to the next counter to pay for the stamping fee. If you are arriving Vietnam during shower season (late May to early August), the wait time is often no longer than 15 minutes as the number of international arrivals is low.
Visa Policy Updates
1. As of June 26 2020, all visas are still suspended amid the recent virus outbreak. Visa exemptions are also suspended for the citizens of South Korea, Belarus, Russia, Japan, Sweden, Denmark, Finland, Norway, UK, France, Germany, Spain and Italy.
2. Visa on arrival programs are still suspended as of January 2021.
3. Do you plan to visit Vietnam in coming months? Please email us sales@myvietnamvisa.com, we will keep you updated when visas are available again for foreigners.
This page is updated on January 01, 2021
Frequently asked questions
Is visa on arrival legitimate?
YES, Visa-on-arrival (VOA) is legitimate and the Issuing authority is the Immigration Department. You can check out the Ordinance on entry, exit and residence of foreigners in Vietnam: (01) Government's Decree No. 21/2001/ND-CP. (2) Joint Circular No. 04/2002/TTLT/BCA-BNG.
Is visa on arrival available at Phu Cat airport?
Visa on arrival is currently available at International airports, therefore there is no visa counter at Phu Cat Airport (UIH - Quy Nhon) as it handles only domestic flights (flights within Vietnam).
Should I use "fast track" service to avoid the queue?
No, fast track service is not necessary as it usually takes 15-20 minutes to get a visa stamp at Vietnam airport. If you travel with children or are in emergency cases, you can ask the officers or other applicants for priority. Kindly check out detailed guide on wait time at Vietnam airport.
How long does it take to get my visa stamp at Vietnam airport?
It usually takes about 15-30 minutes to receive your visa stamp at the landing counter upon arrival. However, if you are arriving during holiday season with large number of arrivals, please expect a longer wait time. To save your time at Vietnam airport, It is recommended that you prepare all the required documents before you go.
Can I can get the visa directly at Vietnam airport?
No, you can not. In order to obtain your visa on arrival, you must apply online for an approval letter (pre-approved visa letter) through a travel agency.
I pay online already, do I need to pay on arrival as well?
Yes, visa on arrival involves two types of fees: (01) service fee for obtaining an approval letter: (02) stamping fee payable by cash at Vietnam airport.
Can I get my visa photos when I arrive?
There is currently no photo boot inside the arrival hall at Vietnam airport, however, many travelers reported that they were able to get their photos taken at Vietnam airport for $2 US/each through an unprofessional photo service.
Can I extend my visa once I am in Vietnam using this visa on arrival?
In most cases, you are able to extend and renew your visa once you are in Vietnam. There are a few reasons for a visa extension refusal: (01) applicants overstay their visas. (02) applicants have problems with their past entries (overstay, wrong entry purpose).
Why apply with us
3-5 working days processing
No Hidden Charges
Prompt Support via chat, email, phone
Accept Credit/Debit Cards
100% money back guarantee for declined applications
Apply Now