VIETNAM VISA ON ARRIVAL
In brief, Vietnam visa-on-arrival is a process of obtaining the pre-approved visa letter (visa approval letter) through a travel agency in Vietnam to check in at the departure airport and pick up the actual visa stamp at an international airport in Vietnam upon arrival.
Who are eligible
Most visitors to Vietnam require a valid visa to visit the country and are eligible to apply for a visa on arrival as long as they enter Vietnam by air at one of the International airports in Vietnam.
Visa exemption: Updated list of 2019
Additional notes:
Visa on arrival is applicable for air travel only. If you enter Vietnam by land or cruise, you are required to obtain a full visa before you arrive.
Your passport must be valid for at least 6 months beyond your planned stay in Vietnam.
If you travel with children having their own passports, you are also required to pay the same fees as adults.
The stamping fee at Vietnam airport is payable in cash only, no credit cards are accepted.
There is NO OFFICIAL website for visa on arrival service. All websites offering the pre-approved visa letter are private agencies. Do not get confused by bulk of websites with organizational internet domain TLDs (org, gov..ect).
Visa-on-arrival documents:
With the approval letter (Image 1) that you obtain through our service, you are able to get your visa stamp (image 2) on arrival at Vietnam airport.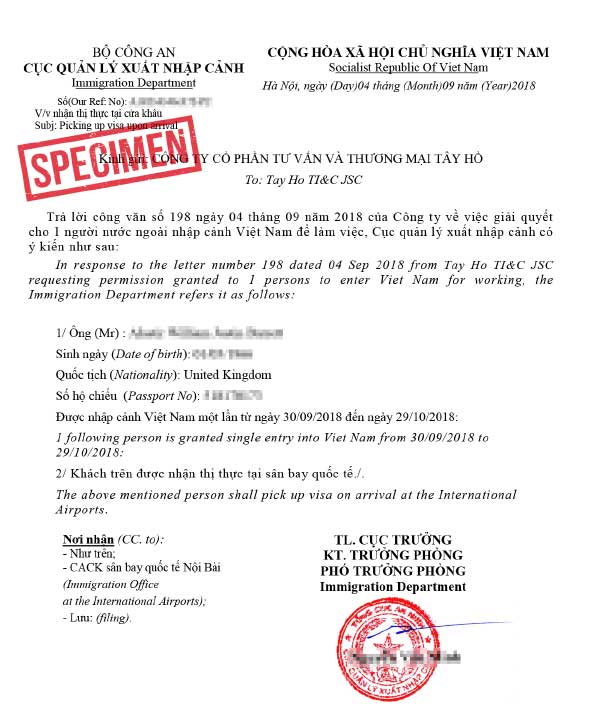 Visa approval letter of 2019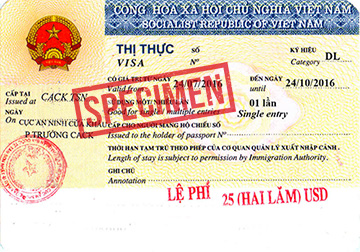 Visa stamp at Vietnam airport
Business visa on arrival
A foreign national traveling to Vietnam to conduct temporary business needs to apply for a business/working visa (categorized under LD/DN visa type). Please check out business visa page for details.
Visa on arrival fees
The visa on arrival fee will depend on the type of visa you are applying for, below is a sample fee for tourist visa on arrival.
| TYPE OF VISA | SERVICE FEES | STAMPING FEE |
| --- | --- | --- |
| Single entry - 1 month | 18 USD | 25 USD |
| Multiple entry - 1 month | 23 USD | 50 USD |
| Single entry - 3 month | 28 USD | 25 USD |
| Multiple entry - 3 month | 43 USD | 50 USD |
| Multiple entry - 12 month (US passports) | 60 USD | 135 USD |
The stamping fee is payable by cash at Vietnam airport in Vietnamese Dongs and US dollars (credit cards are not accepted). Please see our fee page for more detailed instructions.
This page is updated on January 01, 2019

Frequently asked questions
Is Vietnam Visa on Arrival legitimate?
YES – it is as the Issuing authority is the Immigration Department.

References:
Vietnam visa upon arrival at Phu Cat airport?
Question: My Vietnam travel itinerary includes arriving/leaving from Hanoi, but with a side trip to a resort that is serviced by Phu Cat Airport (UIH). Will a Visa Upon arrival be honored at Phu Cat Airport (Quy Nhon)? (Sharon DeAngelis)
Answer: As the visa will be stamped on your passport upon landing at Hanoi airport, you are able to travel any where in Vietnam (including resort in Quy Nhon) without any problems.
How long does it take to get my visa stamp at the airport?
From our customers experience in the past 10 years:
40% of the customers: Waited less than 15 minutes.
40% of the customers: Waited for 15-30 minutes.
15% of the customers: Waited 30 minutes to 1 hour.
5% of the customers: Waited >1 hour. (Update 2019: Some of our clients had to wait for 2 hours due to a large number of arrivals on the Christmas Day, 24-December. If you travel with children, please contact us for help or fast track in this case)
Our tips for you are:
Prepare all documents before you arrive.
Prepare the exact amount for the stamping fee.
Prepare the stamping fee in cash either in Vietnamese Dong or US dollars.
Rush out the airplane as soon as possible to be the first come first serve.
If you are travelling with children or elderly people, ask the officers for priority.
Should I use "fast track" service to avoid the queue?


No, we do not offer fast-track service and we do not recommend you to purchase it as we believe that it is NOT a "FAIR" service. If you travel with children or are in emergency cases, you can ask the officers or other applicants for priority. Kindly check out detailed guide on wait time at Vietnam airport.
Can I can get the visa directly at Vietnam airport?
No, you can not. In order to obtain your visa on arrival, you must apply online for an approval letter (pre-approved visa letter) through a travel agency.
I pay online already, do I need to pay on arrival as well?
Yes, please be advised that there are two fees you are required to pay for the visa on arrival service:
Service fee: Payable online for our company to obtain your the letter of approval.
Stamping fee: Payable by cash at Vietnam airport when you arrive.
Kindly check out the fee page for more details.
Can I get a photo when I arrive?
There is currently no photo boot at Vietnam airport, we strongly recommended that you have your photos taken before you go. Some of our customers reported that they were able to get their photos taken at Vietnam airport for $2 US/each through an unprofessional photo service.
Can I extend my visa once I am in Vietnam using this visa on arrival?
In most cases, you are able to renew your visa once you are in Vietnam. 95% of our customers were able to review their visas without hassle. Some can not get their visas renewed for one of the following reasons:
They overstay their visas.
They have problems with their past entries (overstay, wrong entry purpose)
Why apply with us
3-5 working days processing
No Hidden Charges
Prompt Support via chat, email, phone
Accept Credit/Debit Cards
100% money back guarantee for declined applications
Apply Now