A Vietnamese e-visa is an electronic visa which is available to citizens of 80 eligible countries to enter Vietnam for a specific period of time. It can be obtained through an online application process through the official government e-visa website. The e-visa is valid for a single entry and allows a stay of up to 30 days in Vietnam. The application process typically takes a 3-5 working days to complete and requires a valid passport and a recent passport-sized photo. E-visa also allows visitors to enter and exit Vietnam through any of the 33 international checkpoints.
E-visa requirements
A valid passport with at least 6 months of validity remaining.
One passport-sized photo.
A scanned copy of the passport data page with personal information.
Payment of the e-Visa fee of $25 USD for a single entry, 30-day visa.
Note:
The e-Visa is available for both tourists and business travelers.
How to apply
To obtain a Vietnam e-Visa, follow these steps:
1. Visit the official Vietnam e-Visa Application website and click on "For Foreigners". The website is currently available in English/Vietnamese language only.
2. Submit .jpg images of your passport data page and passport photo.
3. Complete all necessary information from your passport data page. (Name, date of birth, nationality, passport number..ect)
4. Provide details regarding your trip. (Travel date, Inviting/ guaranteeing agency/ organization, place of stay, length of stay)
5. Pay the e-Visa fee (25 USD) through one of the available payment options. (Visa, master and other credit/debit cards)
6. Wait for 3-5 working days
7. Download your registration code at the "Evisa search" page: https://evisa.xuatnhapcanh.gov.vn/web/guest/tra-cuu-thi-thuc
Tips: Double check the information you provided and the documents you uploaded before submitting the application, as any mistake may cause delays or even rejection of the application.
Visa fees
As of February 2023, the cost of an e-visa for Vietnam (Single entry/30 days) is 25 USD (~586,250.00 VND).
Processing times
The standard processing time for a single entry e-visa is 3 business days. For those who need the visa on an urgent basis, an expedited service is available for an additional fee which can process the e-visa within 24 hours.
Who are eligible
As of February 2023, citizens of 80 countries and territories are eligible to apply for a Vietnamese e-visa. This includes countries such as the United States, Canada, Australia, and many European countries.
Argentina
Armenia
Australia
Azerbaijan
Belarus
Brunei
Bulgaria
Canada
Chile
China (Not applicable to Chinese e-passport holders)
Colombia
Cuba
Czech Republic
Denmark
Finland
France
Germany
Greece
Hungary
India
Ireland
Italy
Japan
Kazakhstan
Korea (South)
Luxembourg
Mongolia
Myanmar
Netherlands
New Zealand
Norway
Panama
Peru
Philippines
Poland
Romania
Russia
Slovakia
Spain
Sweden
Timor Leste
United Arab Emirates
United Kingdom of Great Britain and Northern Ireland
United States of America
Uruguay
Venezuela
Name of applicable ports
E-visa holders can enter/exit Vietnam at one of the 33 entry points below:
Cat Bi Int Airport (Hai Phong)
Cam Ranh Int Airport (Khanh Hoa)
Can Tho International Airport
Da Nang International Airport
Noi Bai Int Airport (Ha Noi)
Phu Bai Int Airport
Phu Quoc International Airport
Tan Son Nhat Int Airport (Ho Chi Minh City)
Bo Y Landport
Cha Lo Landport
Cau Treo Landport
Huu Nghi Landport
Ha Tien Landport
Lao Bao Landport
Lao Cai Landport
Moc Bai Landport
Mong Cai Landport
Nam Can Landport
Song Tien Landport
Tinh Bien Landport
Xa Mat Landport
Da Nang Seaport
Hon Gai Seaport
Hai Phong Seaport
Nha Trang Seaport
Quy Nhon Seaport
Ho Chi Minh City Seaport
Vung Tau Seaport
You can download the latest list of available ports of exit and entry
here
.
Notes: Many of our website visitors reported that it takes 5-7 working days for them to receive the e-visa documents. Therefore, if you choose to apply for an e-visa, make sure that you apply for one 1-2 weeks in prior to your entry date.


Sample of the Vietnam visa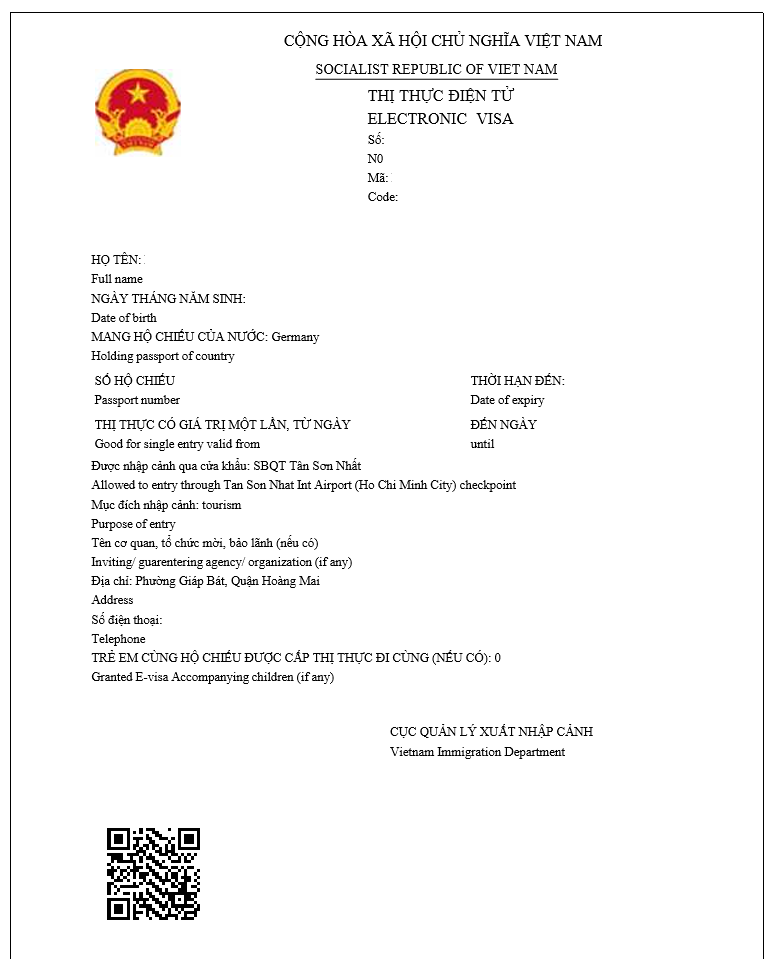 Vietnamese E-visa sample as of 2022