Vietnam Visa Exemption
Nationals of certain countries may visit Vietnam without visa for a period of time, hereunder is the list of countries and regions that have Visa Waiver arrangements with Vietnam.
Special notes:
British National Overseas (BNO) passport holders are not eligible for the 15-day free visa exemption. Hence, BNO passport holders are required to obtain a valid visa to visit Vietnam.
Foreign passports are exempt from visa requirements to Phu Quoc island for no longer than 30 days. If they transit through other international airports in Vietnam before arriving Phu Quoc, they are still eligible for the exemption.
APEC Business Travel Card (ABTC) holders with valid passports are exempt from Vietnam visa requirements for stay of no longer than 60 days.
Travelers visiting Vietnam with visa exemption can exit the country after the exemption period ends and return the country immediately for another exemption.
As of August 2022, regular passport holders from 24 COUNTRIES below DO NOT need a tourist visa for Vietnam:
The above is provided for informational purposes only, please double check with the embassies or consulates of Vietnam in your country before you go. A full list of diplomatic missions of Vietnam around the world is
here
.
Sample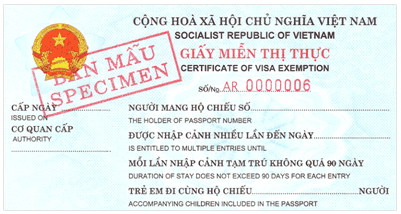 Visa exemption certificate sample for overseas Vietnamese.

Last Updated: August 05, 2022
Read More:
5 Year Visa Exemption for Vietnam
Who are eligible for the overseas Vietnamese visa exemption?
Frequently asked questions
I am an UK passport holder, am I exempted from visa requirements for the second visit within 30 days?
No, if you plan to travel to Vietnam in less than 30 days from the first free-visa visit, you are required to apply for a visa to enter the country.
I am a BNO passport holder living in Hong Kong, am I eligible for the 15-day visa exemption?
No, we are afraid that the visa exemption is not applicable to BNO passport holders. In this case, you can either contact the Vietnamese Consulate in Hong Kong to apply for a full visa or apply for a visa on arrival online.
I overstay my visa exemption for 1 day, what can I do?
If you overstay your Vietnam visa for less than 3 days, you are not required to contact the Immigration office, instead you can go to the airport and pay the fine there upon exit, it is about 500,000 VND (~$23 US) fine per overstay day!
Why apply with us
3-5 working days processing
No Hidden Charges
Prompt Support via chat, email, phone
Accept Credit/Debit Cards
100% money back guarantee for declined applications
Apply Now