Vietnam visa for Germany citizens
As of 2023, German Passport Holders do not require a visa to enter Vietnam for business or for visit purposes. The following requirements must be met:
German passport that has a validity of six (6) months is required.
Passport has at least 2 blank visa pages.
Visa requirements
| Type of visa | Requirements | Maximum stay |
| --- | --- | --- |
| Tourist visa | Visa not required | 45 days |
| E-visa | Eligible | 30 days |
How to apply
Visitors from Germany can choose one of the three available methods below to get a visa for Vietnam.
e-Visa
Visa on arrival
Visa at embassy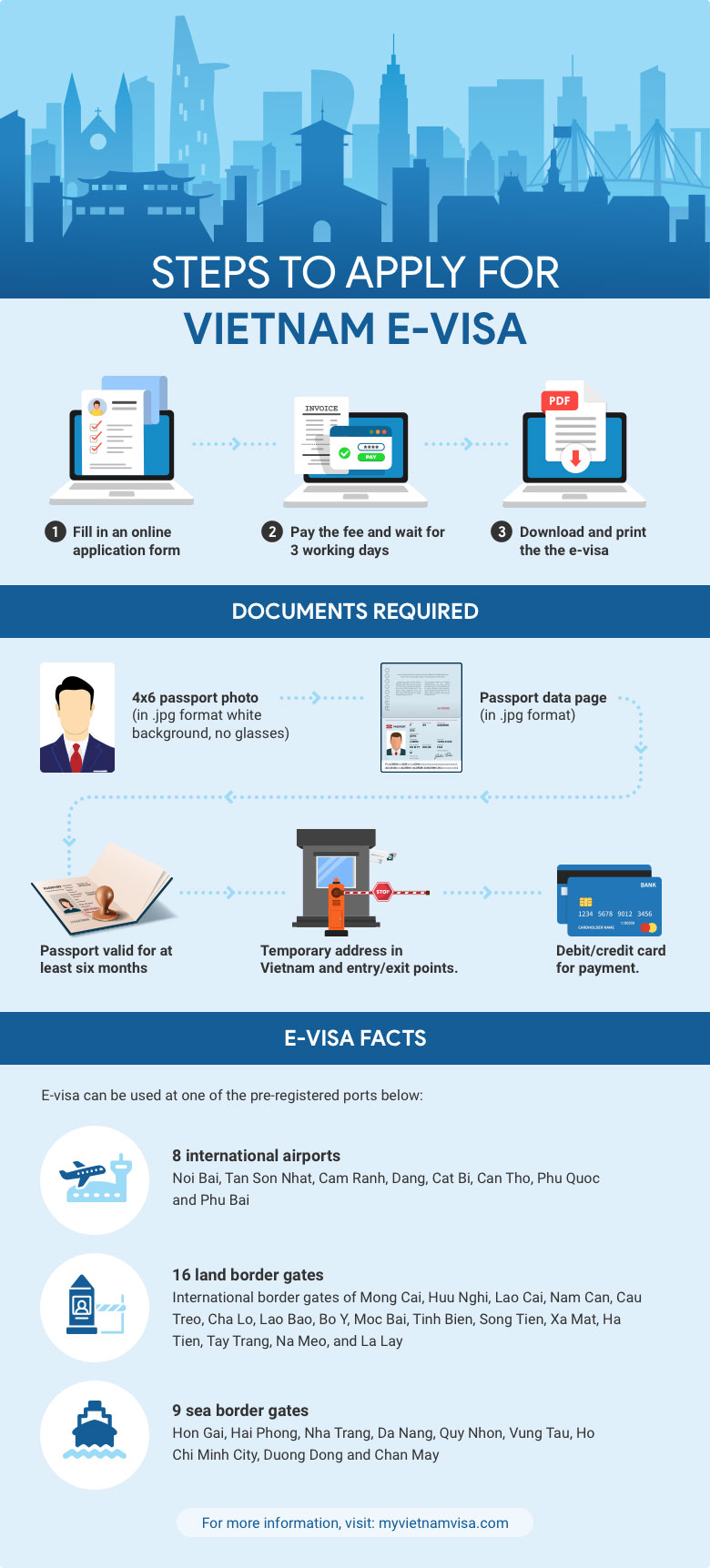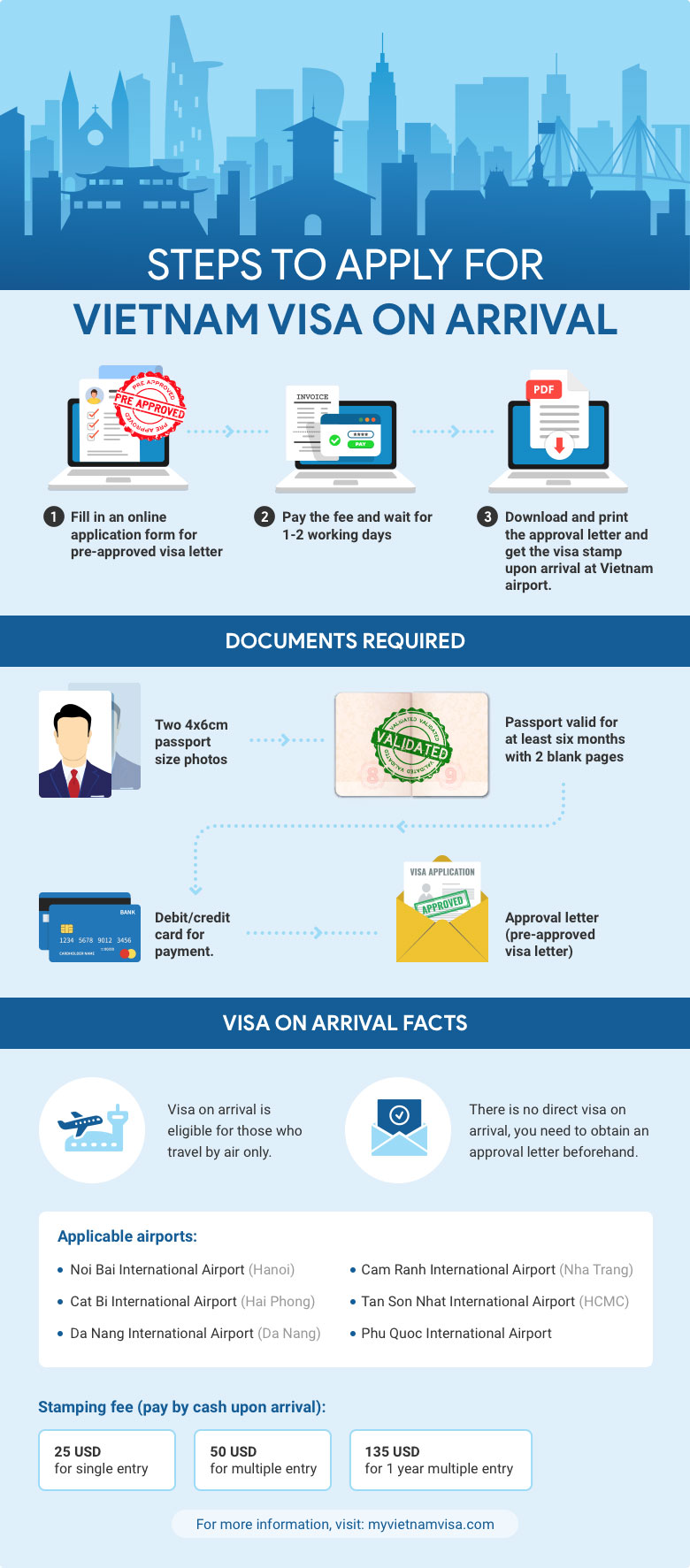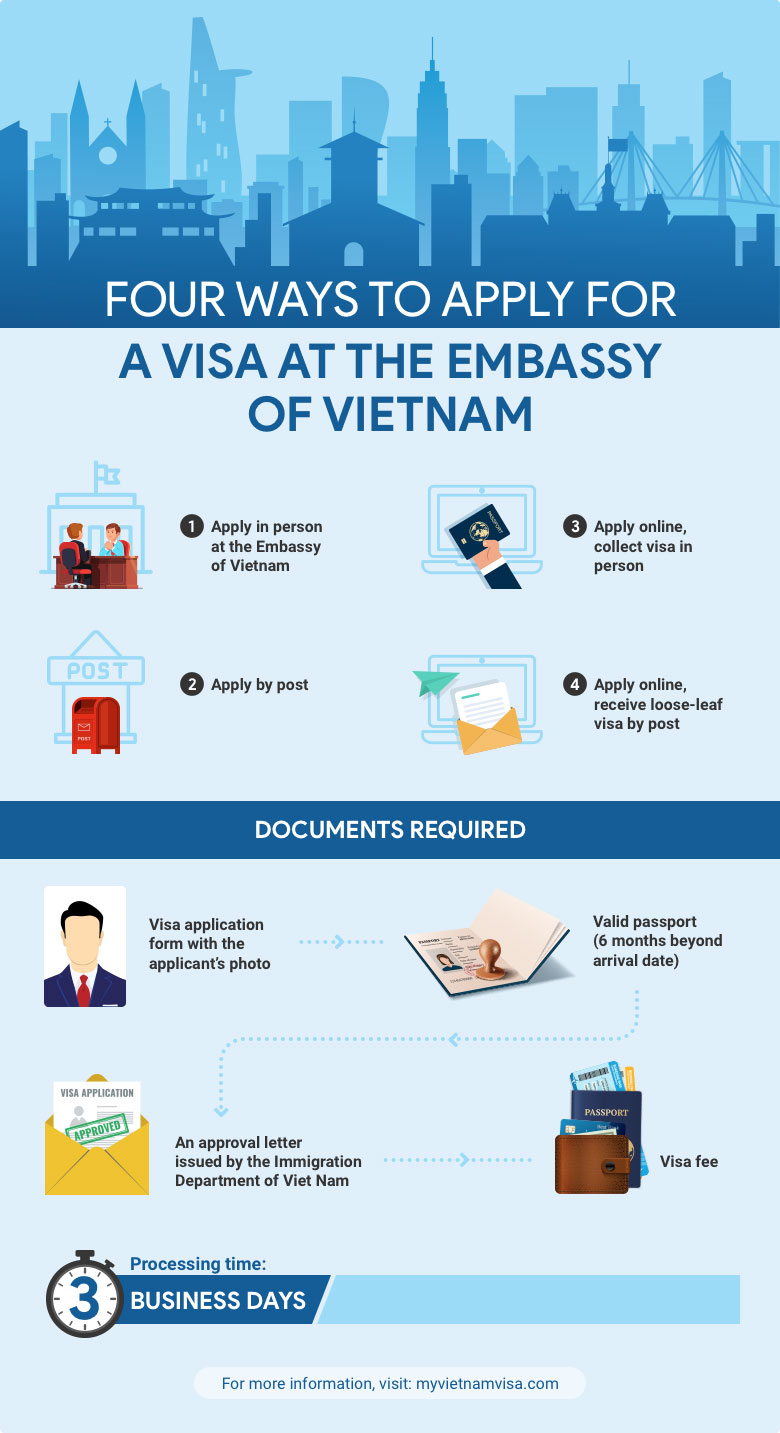 Embassy and Consulate of Vietnam in Germany
Vietnam visa fees for DE residents
Visa types
Standard processing (5-7 working days)
Urgent processing (2 working days)
1 Month Multiple Entry (Tourism)
66 EUR
3 Month Multiple Entry (Tourism)
66 EUR
3 Month Single Entry (Tourism)
43 EUR
1 Month Single Entry (Tourism)
43 EUR
Standard Processing time: e-Visa will be processed by 11:30 December 13, 2023 (Local Hanover time).
Today's holidays in Germany
There are no national holidays being observed in the Germany today (Sunday, December 03, 2023).
The upcoming public holiday is Christmas Day, which will occur in 3 weeks from now.
Holidays are calculated using the local time in Berlin.
Information for DE passports traveling to Vietnam
Do German citizens need a visa for Vietnam?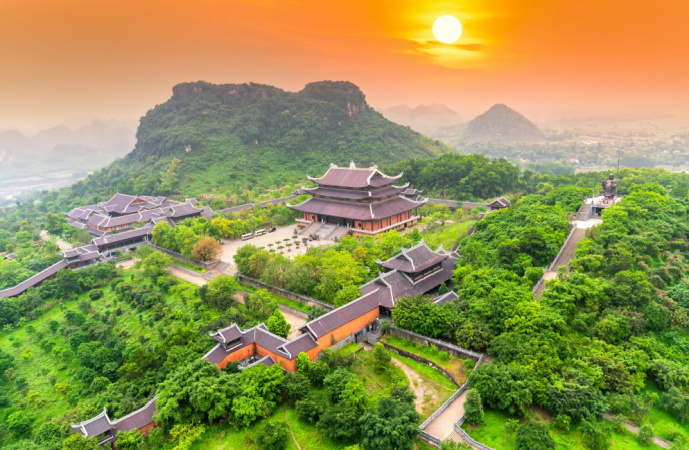 Vietnam government provides a visa exemption program for 25 countries including Germany. That means German passport holders DO NOT need a visa to enter Vietnam for stays of a maximum of 15 days.
How to apply for a Vietnamese visa on a German passport
German citizens can get a visa to enter Vietnam through the Vietnam visa online system (e-visa), at the Vietnam Embassy, or by applying for a visa on arrival.
Visa at the Vietnam Embassy in Germany
By obtaining a visa at the embassy of Vietnam, you have a wider range of visa choices and more extended stays. Here are some necessary steps to follow:
Go to the website of the Vietnamese embassy in Germany, download the application form, or take it in person at the embassy and fill it out completely.
Provide all the required documents, such as your passport (with at least 6 months validity), passport photos, and other supporting documents based on the type of visa you are applying for.
Submit your application in person at the embassy during the designated hours. Alternatively, you can submit your application by mail if the embassy accepts it.
Pay the visa fee usually in cash or by card.
Collect your visa at the embassy in person or by mail.
Apply for e-visa online
German citizens are eligible to apply for a single-entry e-visa to visit Vietnam for tourism or business purposes. The e-visa allows you to stay in Vietnam for up to 30 days and can be applied online through the Vietnam Immigration Department's website.
Visit the Vietnam Immigration Department's website: https://evisa.xuatnhapcanh.gov.vn/ and choose "e-visa insurance".
Provide personal and travel information, a scanned copy of your German passport, and a digital passport-sized photo.
Pay the e-visa fee of 25 USD ~ 23 Euros.
The processing time for the e-visa application is about 3-5 business days, and the visa fee is non-refundable.
Receive your e-visa via email.
Apply for a visa on arrival
You can obtain a visa on arrival to enter Vietnam by air. To apply for a visa on arrival, you must get a pre-approval letter from a Vietnamese travel agency or visa processing company. Then, use this letter to get a visa stamp upon arrival at one of Vietnam's international airports.
How much is the visa fee for German passports?
Fee comparison
E-visa 

Visa on arrival

25 USD ~ 23 Euros

Approval letter fee: depending on types of visa and stay durations
Stamping fee:

Single entry: 25 USD ~ 23 Euros
Multiple entry: 50 USD ~ 46 Euros
Travel tips for Germans visiting Vietnam
How to get there
Several airlines offer flights between Germany and Vietnam, with most flights departing from major cities in Germany such as Frankfurt, Munich, and Berlin, and arriving at Ho Chi Minh City and Hanoi in Vietnam.
Berlin - Ho Chi Minh City
| Route | Airlines | Estimated prices (per person/ one way) |
| --- | --- | --- |
| Berlin - Ho Chi Minh City | Qatar Airways | 536 Euros |
| Berlin - Ho Chi Minh City | Turkish Airlines | 544 Euros |
Frankfurt - Ho Chi Minh City
| Route | Airlines | Estimated prices (per person/ one way) |
| --- | --- | --- |
| Frankfurt - Ho Chi Minh City | Singapore Airlines | 567 Euros |
| Frankfurt - Ho Chi Minh City | Vietnam Airlines (direct flight) | 614 Euros |
Weather information
Vietnam and Germany have very different climates and temperatures, with Vietnam being much hotter and more humid due to its tropical location, while Germany has a temperate climate with milder temperatures throughout the year, but with more distinct seasonal changes.
Climate: Vietnam has a tropical climate, affected by the monsoon season. In contrast, Germany has a temperate climate with four distinct seasons.
Temperature: The temperature in Vietnam varies between 25 to 30°C (77 to 86°F), and can fall to below 20 degrees Celsius in winter. In Germany, in the summer, temperatures can reach up to 30°C (86°F) in some areas, while in the winter, temperatures can drop below freezing.
Weather: Vietnam features two distinct seasons, the rainy (May to October) and the dry seasons (November to April). On the other hand, in Germany, summers are generally warm and sunny, while winters are cold and snowy.
Questions and Answers (01)
Q
Tanja
Germany on April 18, 2023
I am German and Plan to Work in a Vietnamese language school. Can we apply for a 1 year Business visa? Three months is too little. I want to move to Vietnam. How can I get a 1 year Business visa or at least a 6 months Business visa multiple entries? What documenta do I need and how much does IT cost for me and my little child?
A
Lan
Answered on April 18, 2023
@Tanja, Unfortunately, it is not possible to obtain a 1-year visa for German passport holders without a sponsoring company in Vietnam. Our suggestion is that you visit Vietnam on a 1-month visa and search for job opportunities. If you are successful in securing a job, you can request your employer to apply for a long-term work visa, enabling you to work in Vietnam legally.
21 people found this helpful
Frequently asked questions
1. Do overseas Vietnamese citizens residing in Germany need a visa to visit Vietnam?
As an overseas Vietnamese citizen living in Germany, you do not need a visa to return to Vietnam if your Vietnamese passport is still valid.
2. Are German passport holders eligible for the Vietnam visa exemption scheme?
Yes. German citizens are EXEMPTED from a visa to Vietnam for stays of less than 15 days.
3. Are German nationals obtaining business visas eligible for multiple entry?
A business visa obtained at Vietnam Embassy or on arrival can be used for multiple entry while a business e-visa is available for single entry only.
4. Is a visa on arrival issued for those traveling through land borders?
No. A visa on arrival is only provided if you travel by air to one of the designated airports in Vietnam such as Tan Son Nhat airport (Ho Chi Minh City) or Noi Bai airport (Hanoi).
5. Can citizens of the Germany apply for an e-visa to visit Vietnam?
Yes, German nationals are eligible to request an e-visa for travel to Vietnam. Instructions for obtaining an e-visa from the Germany can be found here.
Why apply with us
99% on time delivery
Easy & simple form
15+ years of experience
No hidden charges
100% money back guarantee for declined applications
Apply Now
Need more help?
Contact us at:
Questions? Chat with us!)
(8.00 AM-16.00 PM, GMT+7, Whatsapp)
Sun Dec 03 2023,
21:52:56
(Hanoi)