Vietnam visa for Czech Republic citizens
Under Vietnam's visa policy, Czech citizens are required to obtain a valid visa to visit the country. The following requirements must be met:
Czech passport must be valid for at least 6 months beyond the arrival date.
Passport has at least 2 blank visa pages.
Visa requirements
| Type of visa | Requirements | Maximum stay |
| --- | --- | --- |
| Tourist visa | Visa required | N/A |
| E-visa | Eligible | 30 days |
How to apply
If you're traveling to Vietnam from Czech Republic, you can choose one of the following three methods to secure a visa.
e-Visa
Visa on arrival
Visa at embassy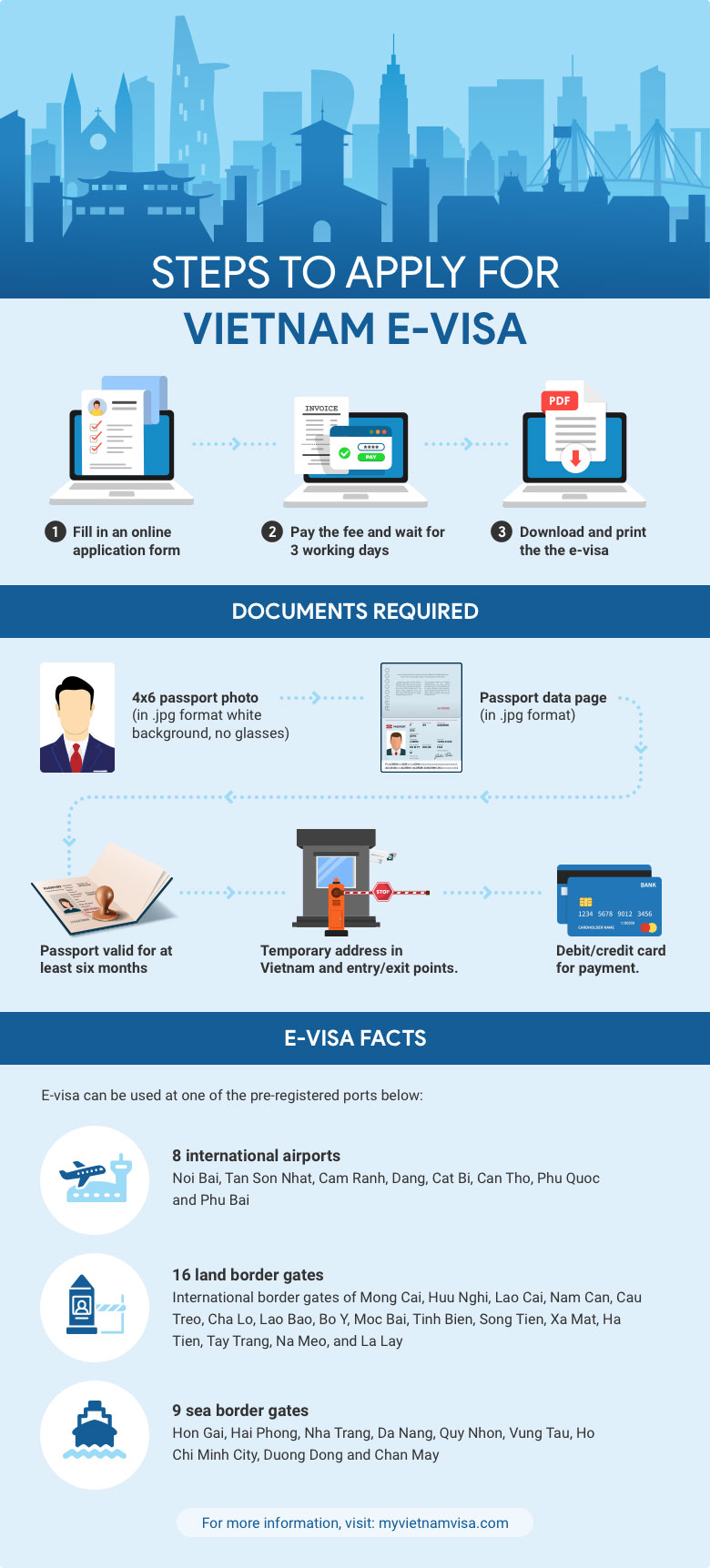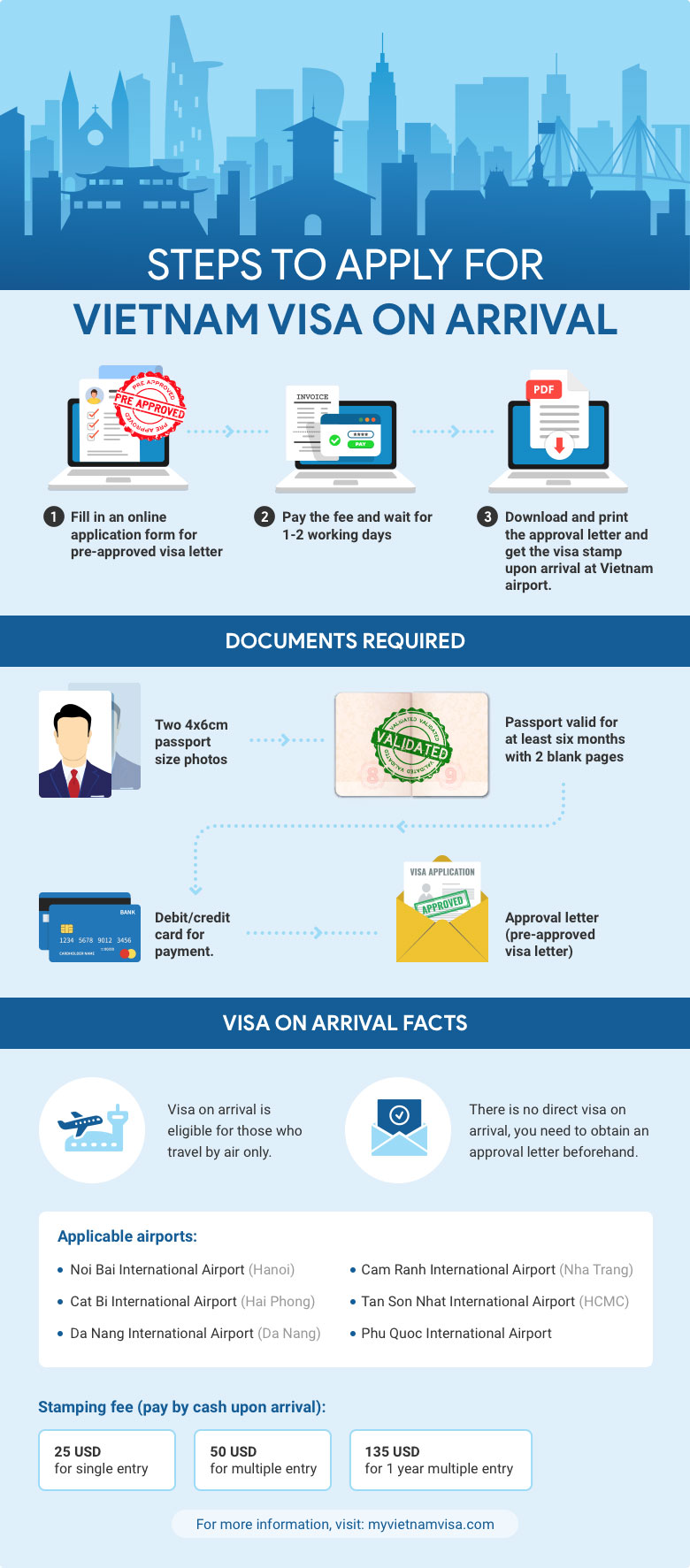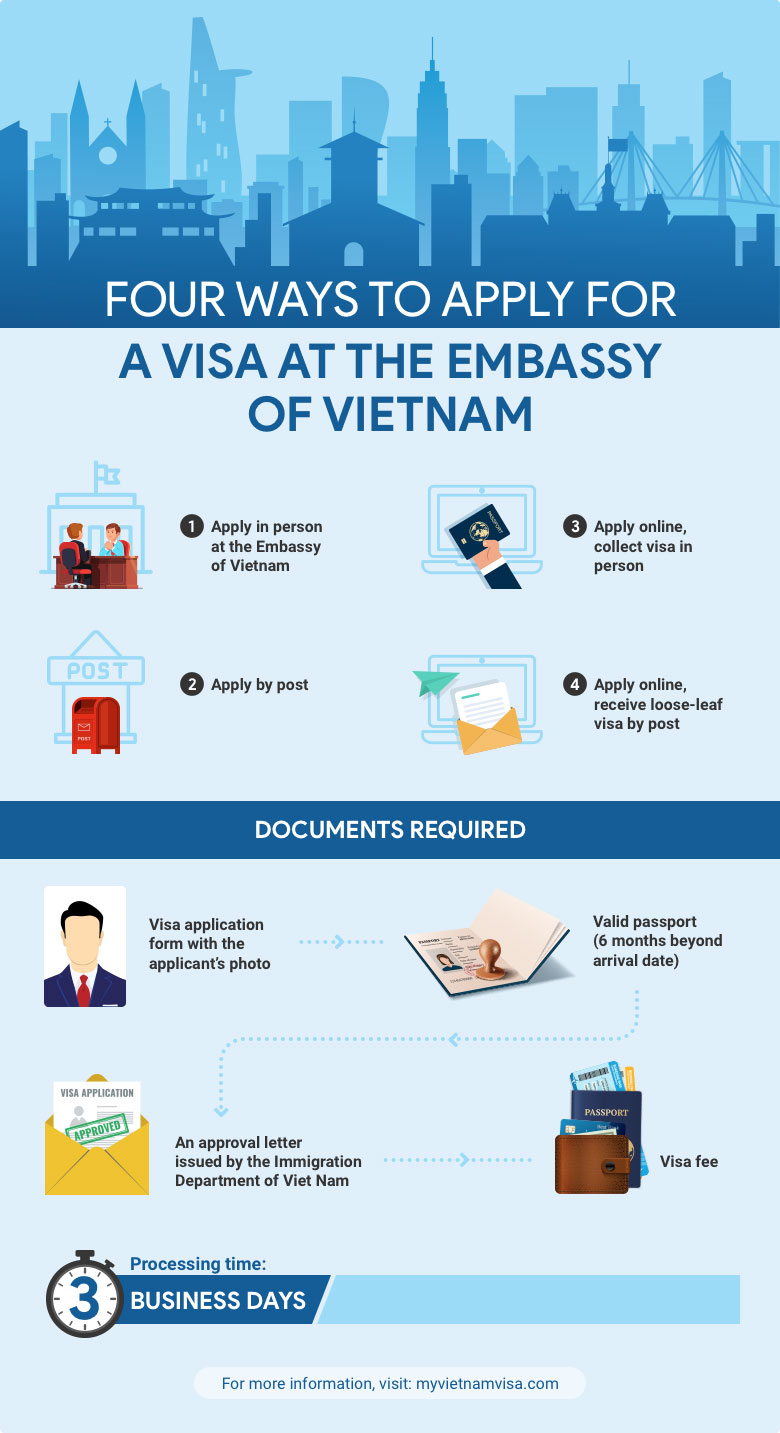 Embassy and Consulate of Vietnam in Czech Republic
City
Address

Prague

Plzenska 2578/214 Praha 5 –Novy Smichov 150 00, Czech Republic


Close now
Vietnam visa fees for CZ residents
Visa types
Standard processing (5-7 working days)
Urgent processing (2 working days)
1 Month Multiple Entry (Tourism)
1,553 CZK
3 Month Multiple Entry (Tourism)
1,553 CZK
3 Month Single Entry (Tourism)
1,021 CZK
1 Month Single Entry (Tourism)
1,021 CZK
Standard Processing time: e-Visa will be processed by 12:30 December 13, 2023 (Local Karlovy Vary time).
Today's holidays in Czech Republic
There are no national holidays being observed in the Czech Republic today (Sunday, December 03, 2023).
The upcoming public holiday is Christmas Eve, which will occur in 2 weeks, 6 days from now.
Holidays are calculated using the local time in Prague.
Information for CZ passports traveling to Vietnam
Do Czech passport holders need a visa for Vietnam?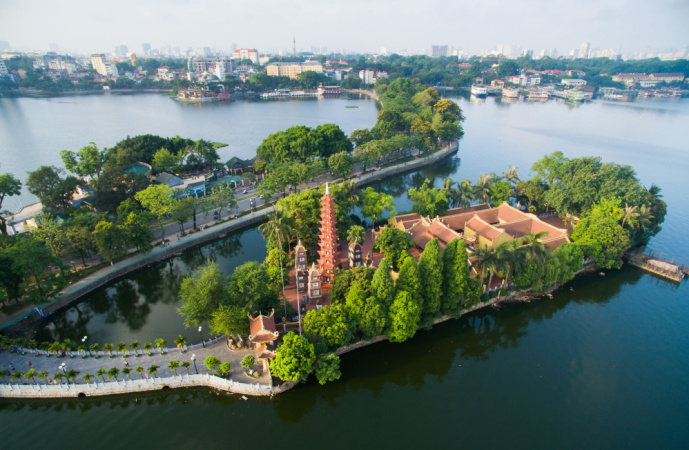 Czechs are REQUIRED to obtain a visa to enter Vietnam for tourism, business, or family visits. 
Tourist visa: The Vietnam tourist visa is a single-entry visa, valid for up to 30 days.
Business visa: A business visa allows multiple entries and a maximum stay of 90 days.
How to apply for a Vietnamese visa on a Czech passport
Visa at the Vietnam Embassy in Czech Republic
You can apply for a Vietnam visa at the Vietnam embassy located in the Czech Republic. It is needful to prepare the necessary documents and fill out the application form, which can be obtained from the embassy's website or in person. Wait for your visa application processed within a few days or up to 2 weeks then you can receive your passport with a visa in person or by mail.
Apply for e-visa online
To obtain a Vietnam e-visa, you need to:
Visit the Vietnam Immigration Department's website: https://evisa.xuatnhapcanh.gov.vn/. 
Fill out the application form, upload a digital passport photo and a scan of your passport information page.
Pay the visa fee online using a credit or debit card (25 USD ~ 532 CZK). 
After submitting your application and receiving approval, you will be issued an electronic visa that can be presented to the immigration officer upon your arrival in Vietnam. 
Apply for a visa on arrival
Vietnam visa on arrival is issued for Czech citizens arriving by air. This type of visa can be obtained online through a travel agency or a visa service provider authorized by the Vietnam Immigration Department. To apply for the visa, you will need to:
Fill out an online application form, provide your travel details, pay the visa fee online, and receive an approval letter via email. 
Upon arrival at the airport in Vietnam, you will need to present your approval letter, your passport, and two passport-sized photos to the immigration officer, and pay a stamping fee to get your visa stamped in your passport.
How much is the visa fee for Czech passports?
Fee comparison 
E-visa 

Visa on arrival

25 USD ~ 532 CZK

Approval letter fee: depending on types of visa and stay durations
Stamping fee:

Single entry: 25 USD ~ 532 CZK
Multiple entry: 50 USD ~ 1065 CZK
Travel tips for Czech citizens visiting Vietnam
How to get there
To transfer from the Czech Republic to Vietnam, you can take connecting flights provided by Qatar Airways, Emirates, Turkish Airlines, Vietnam Airlines, and Czech Airlines. 
The flights usually depart from Prague Václav Havel Airport (PRG) in the Czech Republic and arrive at one of Vietnam's major airports such as Noi Bai International Airport (HAN) in Hanoi or Tan Son Nhat International Airport (SGN) in Ho Chi Minh City. 
Prague - Ho Chi Minh City
| Route | Airlines | Estimated prices (each person/ one way) |
| --- | --- | --- |
| Prague - Ho Chi Minh City | Qatar Airways | 11778 CZK |
| Prague - Ho Chi Minh City | Emirates  | 17305 CZK |
Brno - Ho Chi Minh City
| Route | Airlines | Estimated prices (each person/ one way) |
| --- | --- | --- |
| Brno - Ho Chi Minh City | EVA Air | 14043 CZK |
| Brno - Ho Chi Minh City | Emirates | 15674 CZK |
Weather awareness
Due to differences in geographic locations and climates, Vietnam and the Czech Republic experience different weather patterns. In general, Vietnam is warmer than the Czech Republic, with more humidity and rainfall throughout the year.
Climate: Vietnam has a tropical climate while the Czech Republic has a temperate climate with distinct seasons and occasional rainfall.
Temperature: In Vietnam, the average temperature ranges from 20-35°C (68-95°F) with the south being generally hotter than the north. In the Czech Republic, the average temperature ranges from -2°C to 25°C (28°F to 77°F).
Weather: Vietnam has two distinct seasons, rainy and dry seasons. The hottest months are usually from May to September, while the cooler months are from December to February. On the other hand, residents in the Czech Republic experience four seasons throughout the year with the coldest months being from December to February and the warmest months being from June to August.
Questions and Answers (0)
Be the first to ask a question on this page!
Frequently asked questions
1. Could I visit Vietnam without a visa?
No. The Czech Republic is not included in the Vietnam visa exemption list and you MUST obtain a visa to enter the country.
2. Can the Vietnam e-visa be extended?
No. This type of visa is valid for stays of up to 30 days, single entry, and cannot be extended.
3. What is the maximum validity of a Vietnam business visa?
If you obtain a business visa to enter Vietnam, you can stay up to 90 days, multiple entry.
4. Can I obtain a visa on arrival if traveling by land to Vietnam?
No. Vietnam visa on arrival is only valid for those entering the country by air at one of the designated airports such as Noi Bai international airport (Hanoi) and Tan Son Nhat international airport (Ho Chi Minh City).
5. Is the e-visa option available for Czech residents who plan to visit Vietnam?
Yes, the e-visa program for Vietnam is open to Czech citizens. More information on how to obtain an e-visa from the Czech Republic can be found here.
Why apply with us
99% on time delivery
Easy & simple form
15+ years of experience
No hidden charges
100% money back guarantee for declined applications
Apply Now
Need more help?
Contact us at:
Questions? Chat with us!)
(8.00 AM-16.00 PM, GMT+7, Whatsapp)
Sun Dec 03 2023,
21:42:29
(Hanoi)