Vietnam visa for Belgium citizens
As of 2023, Belgian nationals require a valid visa for entry into Vietnam, either as a tourist, business or in transit or in any other purposes.
Belgian passports must be valid for at least 6 months beyond the arrival date.
Passport has at least 2 blank visa pages.
Visa requirements
| Type of visa | Requirements | Maximum stay |
| --- | --- | --- |
| Tourist visa | Visa required | N/A |
| E-visa | Eligible | 30 days |
How to apply
For visitors from Belgium, there are three available methods to obtain a visa for Vietnam, as explained below.
e-Visa
Visa on arrival
Visa at embassy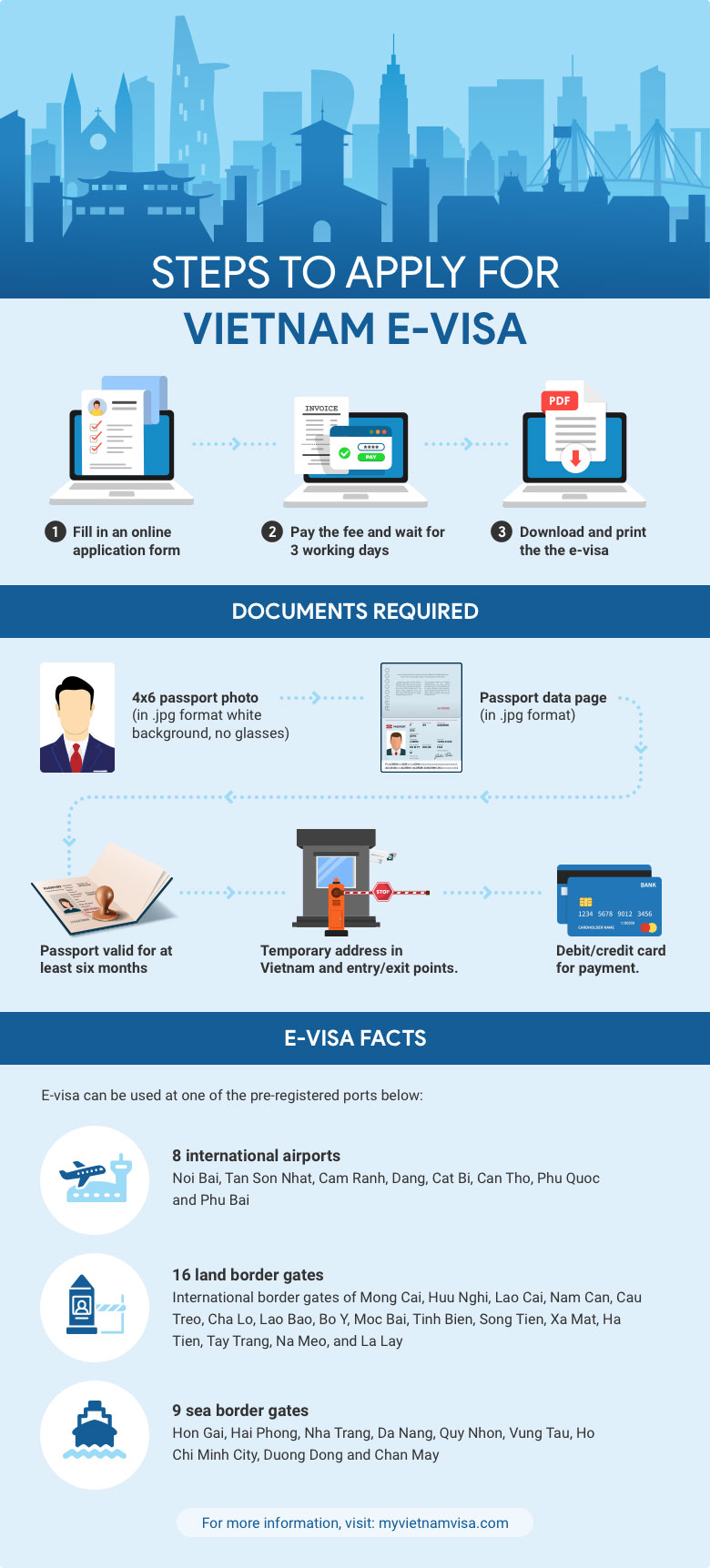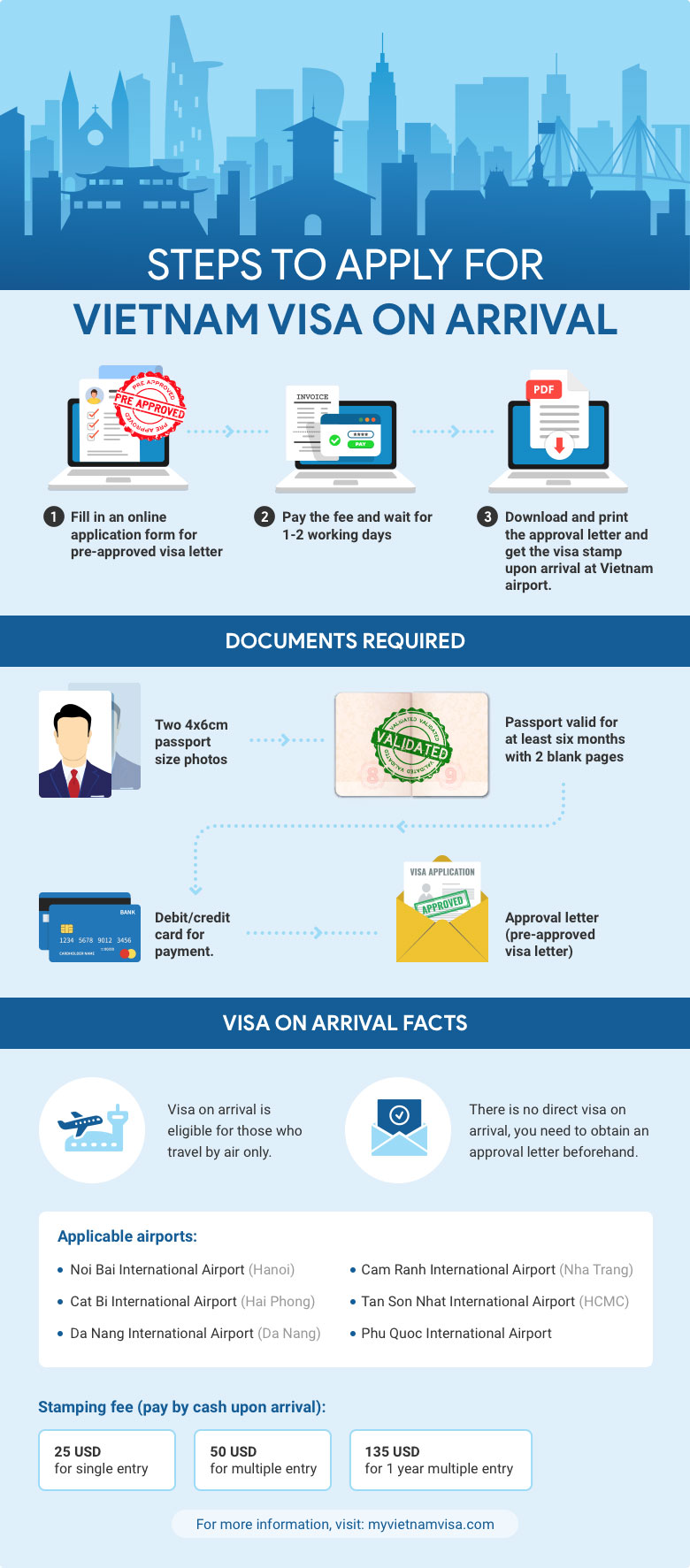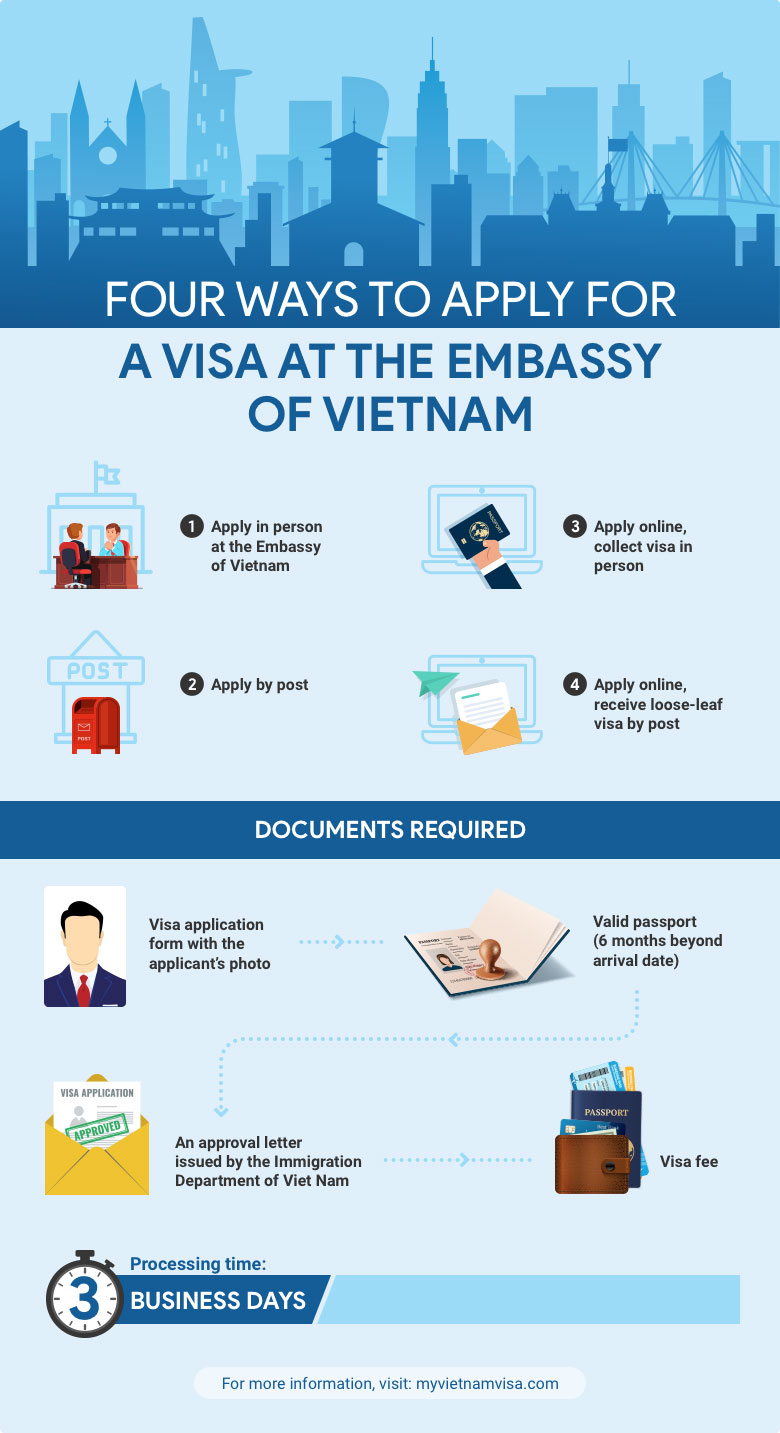 Embassy and Consulate of Vietnam in Belgium
City
Address

Brussels

Boulevard Général Jacques 1, 1050 Brussels


Close now - Open in 3 hours 2 minutes
Vietnam visa fees for BE residents
Visa types
Standard processing (5-7 working days)
Urgent processing (2 working days)
1 Month Multiple Entry (Tourism)
66 EUR
3 Month Multiple Entry (Tourism)
66 EUR
3 Month Single Entry (Tourism)
43 EUR
1 Month Single Entry (Tourism)
43 EUR
Standard Processing time: e-Visa will be processed by 13:30 October 09, 2023 (Local Gent time).
Today's holidays in Belgium
There are no national holidays being observed in the Belgium today (Thursday, September 28, 2023).
The upcoming public holiday is All Saints' Day, which will occur in 1 month from now.
Holidays are calculated using the local time in Brussels.
Information for BE passports traveling to Vietnam
Do Belgian passport holders need a visa for Vietnam?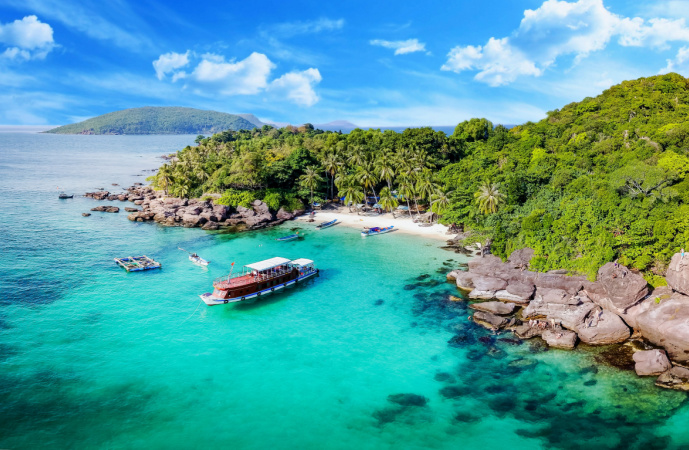 Currently, Belgian passports are required to apply for an e-visa to enter Vietnam for visits up to 30 days for tourism, business, transit or medical purposes. While a Vietnam tourist visa is valid for only 30 days, single entry, those applying for a business visa can stay in Vietnam for a maximum of 90 days, multiple entry.
Visa requirements in brief:
Entry visa:

Visa required for Belgian passports

Document required:

Valid Belgian passports (Minimum 6 months beyond exit date)
1 blank page remaining

Embassy location:

How to apply:

E-visa
Visa on arrival
Visa at the local embassy in Ixelles

Tourism statistics

2023: 8,480 visitors
2022: 8,104 visitors
2020: 7,452 visitors
2019: 34,187 visitors
2018: 31,382 visitors
2017: 29,144 visitors
How to apply for a Vietnamese visa on a Belgian passport
There are three popular ways for you to obtain a valid Vietnam visa.
Visa at the Vietnam Embassy in Belgium
Belgian passport holders can apply for a Vietnam visa at the Embassy of Vietnam in Belgium. You will need to submit the visa application form, a passport-size photo, and your passport with at least 6 months of validity remaining. Afterward, pay the visa fee which varies depending on the type of visa and duration. The processing time is usually 5 working days then you can receive your passport with a visa stamped in person or via mail.
Apply for e-visa online
You can obtain a Vietnam electronic visa for tourist or business purposes. The e-visa is valid for a single entry and for a stay of up to 30 days.
You need to visit the official website of the Vietnam Immigration Department and follow the application process. The application process usually involves filling out an online form, uploading a digital copy of your passport, and paying the e-visa processing fee online (25 USD ~ 23 Euros). It takes around 03 working days for the visa to be issued and you can receive it via email.
Apply for a visa on arrival
Belgian citizens are eligible for a Vietnam visa on arrival if traveling by air. To get this type of visa, you need to contact a visa agency or travel company based in Vietnam for a visa approval letter online, which will be issued by the Vietnam Immigration Department.
You will then need to print this letter and present it, along with a passport-size photo and your passport, when you arrive at one of Vietnam's international airports.
How much is the visa fee for Belgian passports?
Fee comparison 
E-visa 

Visa on arrival

25 USD ~ 23 Euros

Approval letter fee: depending on types of visa and stay durations
Stamping fee:

Single entry: 25 USD ~ 23 Euros
Multiple entry: 50 USD ~ 46 Euros
Travel tips for Belgian citizens visiting Vietnam
How to get there
You can get to Vietnam from Belgium by taking flights provided by prominent airlines such as Vietnam Airlines, Thai Airways, Emirates, Qatar Airways, Etihad Airways, Air France, KLM Royal Dutch Airlines, and Turkish Airlines. Most passengers from Brussels airport (Belgium) will arrive at Tan Son Nhat International Airport in Ho Chi Minh City and Noi Bai International Airport in Hanoi (Vietnam).
Bruxelles - Ho Chi Minh City
| Route | Airlines | Estimated prices (each person/ one way) |
| --- | --- | --- |
| Bruxelles - Ho Chi Minh City | Qatar Airways | 715 Euros |
| Bruxelles - Ho Chi Minh City | Emirates | 829 Euros |
Bruxelles - Hanoi
| Route | Airlines | Estimated prices (each person/ one way) |
| --- | --- | --- |
| Bruxelles - Hanoi | Air France + Vietnam Airlines | 793 Euros |
| Bruxelles - Hanoi | Emirates | 1036 Euros |
Weather information
The climate and temperatures in Vietnam and Belgium are very different with Vietnam having a tropical climate and Belgium featuring a temperate maritime climate.
Weather: Vietnam has quite hot weather with two distinct seasons: a rainy season from May to October and a dry season from November to April. On the other hand, Belgium has more moderate maritime weather. The country has four distinct seasons, with mild summers and cold winters.
Temperature: In Vietnam, temperatures are relatively warm year-round, with average temperatures ranging from 20-35°C (68-95°F). Meanwhile, in Belgium, the average temperatures range from 0-10°C (32-50°F) in the winter and 10-20°C (50-68°F) in the summer.
Precipitation: Vietnam receives much more rainfall than Belgium. The country's rainy season can bring heavy rain and flooding, especially in coastal regions, while Belgium has a relatively high amount of rainfall throughout the year.
Questions and Answers (01)
Q
Kris Van de Velde
Belgium on April 27, 2023
A quick question regarding VOA or E-Visa for a Belgium passport holder. Last year (2022) it was not possible to enter Vietnam twice within 1 month, even if you apply for two separate e-visas. Is this still the case now? If I would like to go to Dalat for a running event on 4 August, and leave Vietnam afterwards again on 6 or 7 August. But on 27 August I would like to return to Vietnam for another running event in Ninh Binh on 1/2 September. Is this possible? Can I apply for an e-visa for the first Dalat weekend, and then apply for an e-visa again for the Ninh Binh weekend, or is it not possible because less than 1 month between the 2 trips?
A
Lina Tran
Answered on April 27, 2023
@Kris Van de Velde, Multiple entry visa is still unavailable for now, however, there may be changes in upcoming months. If you do not travel until August, then please wait for further updates.
3 people found this helpful
Frequently asked questions
1. Is Belgium included in the Vietnam visa exemption list?
No. Vietnam does not grant a visa waiver program for citizens in Belgium; thus, you need to apply for a visa to enter Vietnam.
2. Can I enter Vietnam for business purposes?
Yes. Belgian nationals can obtain a business visa for the purpose of conducting business activities. The activities may include business meetings, negotiating contracts, or participating in conferences.
3. How long could I stay in Vietnam with a tourist visa?
A Vietnam tourist visa has a validity of up to 30 days with single entry only.
4. What is the stamping fee for multiple entry?
The stamping fee for multiple entry within 01 or 03 months is 50 USD ~ 46 Euros.
5. Are Belgian nationals eligible to apply for an e-visa for Vietnam?
Yes, Belgian residents are eligible to apply for an e-visa for Vietnam. You can find the information for getting an e-visa from Belgium here.
Why apply with us
99% on time delivery
Easy & simple form
15+ years of experience
No hidden charges
100% money back guarantee for declined applications
Apply Now