Vietnam Tourist Visa
Traveling to Vietnam is becoming easier thanks to simplified procedures. As of April 2023, Vietnam is supporting passport holders from 25 countries in the world to enter and stay in Vietnam without a tourist visa for a certain period of time. However, many travelers still need to apply for this visa when coming to Vietnam.
What is tourist visa?
Tourist visa is a type of visa granted to foreigners entering Vietnam for the purpose of tourism or vacation. According to the Law on foreigners' entry, exit, transit and residence in Vietnam 2014, tourist visa is symbolized as DL visa and has a maximum validity of 3 months. Foreigners are allowed to stay in Vietnam no exceeding 30 days for each entry and can extend the stay once arriving in Vietnam.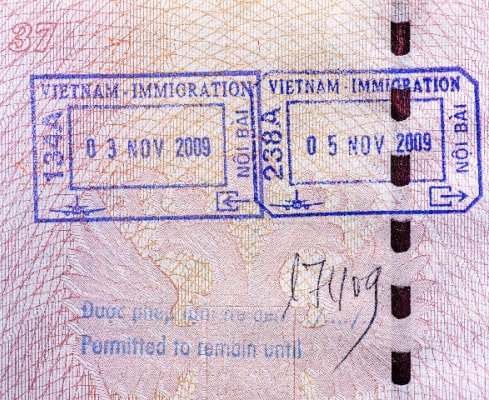 Visas for tourists can be classified by the duration of stay and number of entries including 1-month / single-entry, 1-month / multiple-entries, 3-months / single-entries, and 3-months / multiple-entries. Apart from that, only US passport holders are allowed to register a Vietnam visa with 1-year validity and multiple entries.
Vietnam tourist visa in brief
Type symbol:
Available types:

1 month single entry
3 month single entry
1 month multiple entry
3 month multiple entry

Applicable port of entry:

Airports / Landports / Seaports

Documents required:

A valid passport 
02 passport-sized photos 
An entry and exit date
Entry checkpoints
A visa application form (NA2)

Processing time:

Visa on arrival: 2-4 hours to 2-4 working days
Visa at Embassy: 5 - 7 working days
E-visa: 3 working days

Visa fees:

Visa on arrival: USD25-50 for stamping fee + Service fee (varied)
Visa at Embassy: varied
E-visa: USD25

Tourist visa exemption:
Vietnam visa exemption is applied for 25 countries with a duration from 14 days up to 90 days.
Who is eligible?
There are 25 countries exempt from tourist visas in Vietnam (*). So, if you have one of these nationalities, you can enter and exit Vietnam for tourism purposes within a given period of time. If you have a different nationality or wish to stay longer than the permitted visa-free duration (maximum 90 days), you are eligible to apply for a tourist visa.
Tourist visas are not applied for business purposes, and foreigners are not allowed to work or do business activities during their time in Vietnam.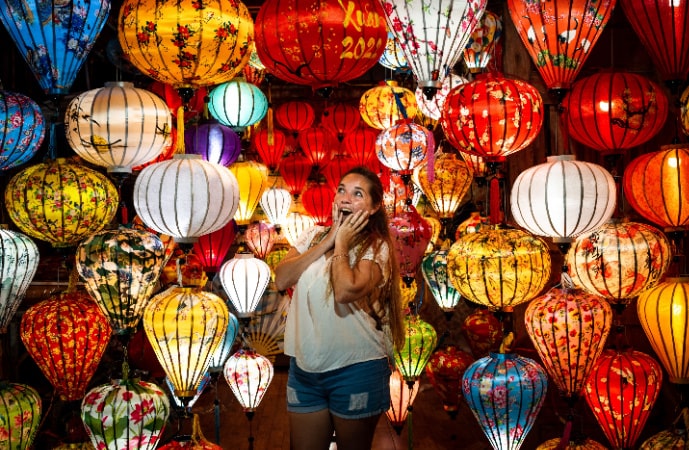 (*) List of 25 Vietnam visa exemption countries:
| | | |
| --- | --- | --- |
| No. | Country | Maximum duration of stay |
| 1 | Chile | 90 days |
| 2 | Panama | 90 days |
| 3 | Cambodia | 30 days |
| 4 | Indonesia | 30 days |
| 5 | Kyrgyzstan | 30 days |
| 6 | Laos | 30 days |
| 7 | Malaysia | 30 days |
| 8 | Singapore | 30 days |
| 9 | Thailand | 30 days |
| 10 | Philippines | 21 days |
| 11 | Brunei | 14 days |
| 12 | Myanmar | 14 days |
| 13 | Belarus | 15 days |
| 14 | Denmark | 15 days |
| 15 | Finland | 15 days |
| 16 | France | 15 days |
| 17 | Germany | 15 days |
| 18 | Italy | 15 days |
| 19 | Japan | 15 days |
| 20 | Norway | 15 days |
| 21 | Russia | 15 days |
| 22 | South Korea | 15 days |
| 23 | Spain | 15 days |
| 24 | Sweden | 15 days |
| 25 | United Kingdom (Not applicable to BNO) | 15 days |
Tourist visa conditions
In order to obtain a tourist visa, foreigners must comply with some conditions as follow:
Foreigners currently stay outside of the Vietnam.
Foreigners have a passport with 6 month validity (at least) upon the arrival date.
Foreigners have a round-trip air ticket to Vietnam.
Foreigners have a hotel room booking or tour organized by a Vietnam travel agency.
Those who are not prohibited from entering Vietnam
How to apply for a tourist visa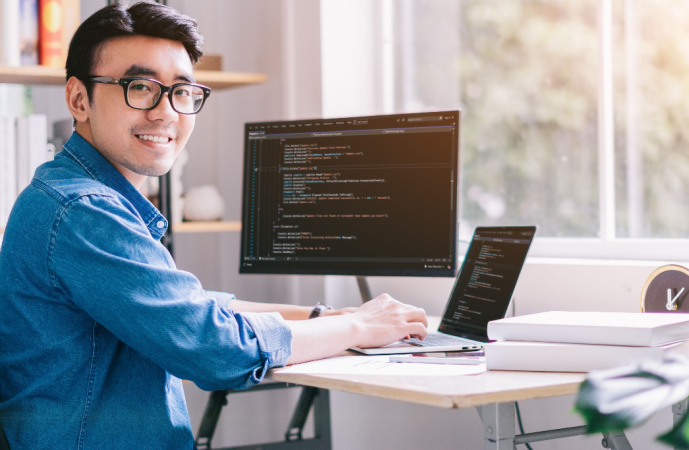 Preparation
To recover tourism after the epidemic and promote international tourists, Vietnam has eased the policy for travel visa applications. Here are the things you need to prepare:
A passport with at least 6 months of validity and 2 blank pages
02 photos in passport size (4x6cm, recently taken, white background, showing the entire face, not wearing glasses or scarf covering hair, looking straight)
Date of entry and exit from Vietnam
Entry port
A visa application form (NA2)
Visa fee
Application
There are 3 ways to get a Vietnam travel visa.
Tourist visa at Embassy/Consulate
The most common way is getting a visa at the Embassy/Consulate. If you prefer to get everything done in person and a visa already stamped on your passport in advance of your trip, this is the one.
Step 1: Get to the Vietnam Embassy/Consulate in your country and submit all documents as required. You should check the requirements carefully since the procedure may vary among different embassies in different countries.
Step 2: Pay the visa fee (varied by embassy).
Step 3: Return to the embassy. If your application is approved, get your original passport back with the visa affixed to it.
Tourist visa on arrival
Only air travelers can apply for a visa on arrival. No need to travel back and forth to the Embassy in person and flexibility in the long duration of stay and entry times, visa-on-arrival is one of the most convenient ways for tourists coming to Vietnam.
Step 1: Contact a Vietnam visa agency to apply for a pre-approved visa letter online. This letter is compulsory for boarding the plane and getting a visa stamp at Vietnam airports. The service fee is varied by agency.
Step 2: Print the visa approval letter and visa application form provided by the agency. Fill up the visa application form and prepare all documents before the flight.
Step 3: Present the visa approval letter and all documents needed (02 passport-sized photos, original passport, and stamping fee in cash) to get a visa stamp at one of 8 international airports in Vietnam.
Tourist E-visa
E-visa is applied for citizens of 80 countries all over the world and those entering Vietnam via one of 33 designated ports including airports, seaports, and landports. Travelers do not need to submit an original passport and prepare too many documents, and all procedures are conducted online which is much time-saving for travelers.
Step 1: Access e-visa's official website at https://evisa.xuatnhapcanh.gov.vn/web/guest/trang-chu-ttdt and provide full information (portrait photo, photo of passport data page, personal information and your trip schedule). Save the Registration Code provided.
Step 2: Pay the fee (USD25).
Step 3: Check the result by Registration Code via Search Menu bar on the website. Download the visa and print a hard copy for use at the airport.
Tourist visa extension
Tourists who overstay in Vietnam with an expired visa will have to pay administrative fines. Since the maximum time for foreign tourists to stay in Vietnam per entry is 30 days, a visa extension is compulsory. Plus, foreigners are required to exit and re-enter Vietnam if wishing to continue their stay.
Conditions to extend
Foreigners must have a guaranteeing travel agency in accordance with the provisions of the tourism law
Foreigners still temporarily reside in Vietnam
Foreigners are not deported or forced to leave Vietnam
Things to prepare
Application form for visa issuance, stay extension (NA5)
Original passport with a validity of at least 6 months
Travel license of the guaranteeing travel agency
Legal documents of guaranteeing travel agency (for first-time application)
Schedule of travel program
Introduction letter of the guaranteeing travel agency sending a representative to do the visa extension for foreigners
Visa extension fee
How to extend
The extension of a visa for tourists must be conducted at one of Vietnam's Immigration Offices in Hanoi, Danang, or Ho Chi Minh City. Here are 3 steps you need to follow:
Step 1: Contact a Vietnam travel agency for instructions on all needed documents and procedures for visa extension.
Step 2: Send your valid passport with all the needed documents and pay the service fee.
Step 3: Receive the passport and visa extension after around 06 - 08 working days.
Processing time & fee
Processing time
The processing time of a tourist visa takes different times based on the way you choose to apply. Here is the approximate time you can refer to:
Visa at an Embassy/Consulate:  5-7 days
Visa on arrival: 3-5 days for regular service and 2-4 hours for urgent service 
Visa online (e-visa): 3 days
Fee
Visa at an Embassy/Consulate: Depending on each Embassy/Consulate
Visa on arrival: USD20-60 for approval letter service and USD25-50 for stamping fee at the airport (USD25 for single entry and USD50 for multiple entries for 1 or 3-month visa)
Visa online (e-visa): USD25
Questions and Answers (07)
Q
Nguyen Vo
Vietnam on June 01, 2023
When applied for my Visa, my original destination was Da Nang. Now my destination has changed to Hue. Would I be able to enter the country through Hue's airport instead of Da Nang?
A
Lina Tran
Answered on June 01, 2023
@Nguyen Vo, The e-visa is valid for the entry point that you registered in the application form. Therefore, if you decide to enter through a different checkpoint, please apply for a new e-visa with the updated entry point.
Q
Carlos
Chile on May 23, 2023
Hi I am travelling with a Chilean Passport for less than 30 days, do I need to do anything before I travel?
A
Lina Tran
Answered on May 23, 2023
@Carlos, Chilean passports are exempt from visa for Vietnam for 90 days, so you just need your valid passport to enter Vietnam!
1 people found this helpful
Q
Winifred Tong
Canada on May 19, 2023
Hi , I will be traveling to ho chi minh city in sept , 2023. I am holding a canadian passport. How can i apply a 1 month multiple entry visa. Due to I will travel to japan in between my stay in vietnam. So I will need to have 2 visa to entry to ho chi minh city.
A
Lina Tran
Answered on May 19, 2023
@Winifred Tong, Multiple entry e-visas will be available soon in June/July this year, so please wait for the new visa policy before applying for a visa.
1 people found this helpful
Q
Ameerah Rosly
Malaysia on May 17, 2023
Hi..I will go to Vietnam for 2 months. I am following my husband for work. Do I need to apply any kind of visa? Seems stated here that Malaysia is exempt for visa. Does it mean I can stay there for 2 months without applying visa?
A
Lina Tran
Answered on May 17, 2023
@Ameerah Rosly, Malaysian passport holders are exempt from a visa for Vietnam for 30 days, not 2 months. Therefore, if you plan to stay for more than 30 days, you are required to apply for a 3-month visa.
1 people found this helpful
Q
Sergio
Thailand on May 10, 2023
I have an Italian passport. I want to fly to Vietnam for a 2 day stay and fly out again. Can i just fly in or do i need to apply for any kind of visa?
A
Lan
Answered on May 10, 2023
@Sergio, You do not need a visa for a 2-day stay in Vietnam, just bring your valid passport for your entry!
Q
Coco
United Kingsom on May 04, 2023
Thank you for the previous answer! We plan on exiting vietnam into either Laos through the Lao Bao landport or into China through Friendship pass/Ai Nam Quan pass. However, we can't see Friendship pass listed in the evisa application form. Is it possible to exit Vietnam into China through this landport and if so which option do we chose in the application form? Also, if we later decide to exit through a different port such as into Cambodia instead of China or Laos, would this be a problem if the exit port we chose on the application form does not match the one we exit through at the time?
A
Long Bian
Answered on May 04, 2023
@Coco, Friendship border gate or in Vietnamese "Huu Nghi landport" is listed on the #12 as you can see below:
https://evisa.xuatnhapcanh.gov.vn/documents/20181/117155/List-of-evisa-port.pdf/c774e24b-1ab8-4fb6-9ac1-dcdfaccecf8e
For your second question, you can exit through a different port of exit and it may not cause any issues. However, we advise that you make a clear plan to avoid changes at a later date.
2 people found this helpful
Q
Coco
United Kingdom on May 03, 2023
Hello, if we enter the country with a 30 day visa and then leave after 30 days how soon can we re-enter the country for another 30 days? Thanks
A
Lan
Answered on May 03, 2023
@Coco, As long as you obtain a new visa, you can re-enter Vietnam without any issues. There is no waiting time requirements for each entry into Vietnam.
4 people found this helpful
Load More (

05

)
Frequently asked questions
1. How long is a travel visa valid?
A travel visa is valid for 1 to 3 months. The maximum stay for each entry is 30 days. In fact, there is 1-year multiple entry visa yet only available for US passport holders.
2. Can I change my tourist visa to another visa?
Yes. Tourist visas can be converted to other types such as work visas, investment visas, relative-visit visas, study visas,... if foreigners fully meet the conditions of the switched visas.
3. Is a tourist e-visa applied for multiple entries?
As of March 2023, e-visa is still applied for single entry and a duration of a maximum of 30 days. However, the validity is supposed to increase to 90 days and multiple entries could be applied from May 2023 according to the proposal of the government.
4. Can I use this visa to do my short-term business work?
No. Tourist visas allow foreigners to enter Vietnam for traveling purposes only. If you use a travel visa to work, both foreigners and related enterprises/companies will be fined.
5. How many times can I extend my travel visa?
You can extend your travel visa only once when arriving in Vietnam. The maximum stay for each entry is not exceeding 30 days.
6. When should I extend my visa?
Since the process takes a few working days, you should apply for the extension around 5-7 days before it expires. Foreigners need to exit Vietnam and re-enter Vietnam after a stay of 30 days. Overstay may result in more difficulties in visa extension and that you may be forced to leave Vietnam.
7. My passport will expire in 3 months, can I extend a tourist visa for another month?
No. Visa extension requires an original passport with a minimum validity of 6 months. Hence, you need to renew your passport at the Embassy in Vietnam before extending your visa.
Why apply with us
99% on time delivery
Easy & simple form
15+ years of experience
No hidden charges
100% money back guarantee for declined applications
Apply Now