Vietnam Visa Photo Requirements
A professional visa photo plays a vital part in your Vietnam visa application. The acceptance of your photo and application form is always under the discretion of the Vietnam Embassy. Not sure about the required standards for a Vietnam visa photo? Read the rules below to have a clear instruction.
Your visa photo must adhere to the following specifications:
Dimensions: According to the international and Vietnam photography size standards, the visa photo sizes should be 4 x 6 cm or 2 x 2 inches.
Validity: Make sure the images are taken within the last 6 months.
Color: Visa photos must be in color and printed on professional photo paper.
Background: Keep your face fully-lit and the area behind you should be a solid, plain white background with no shadows.
Clothing: Just put on clothing you normally wear every day or you can wear your religious clothing but don't let the headdress cover your face.
Accessories: Except for religious attire and consistent objects such as a hearing device, you must take off hat, headgear, veins, scarfs and other items that cover your forehead. Eyeglass prescription use for medical reasons can be accepted. You'll also need to wear consistent with the photos on arrival.
Facial express: Face the camera, keep your neutral expression, show your eyes open, and do not smile.
Vietnam visa photo for children
Children also need to take visa photo and here are some particular requirements:
Neither parents nor anyone else are allowed to appear in the photo; otherwise, the photo will be rejected.
Take the picture with children's face only without any objects such as toys or bottles.
Keep their eyes wide open when you snap the photo.
Infant babies should be laid down on a white plain sheet while children can sit in a chair.
Samples of Vietnam visa photo sizes and guidelines: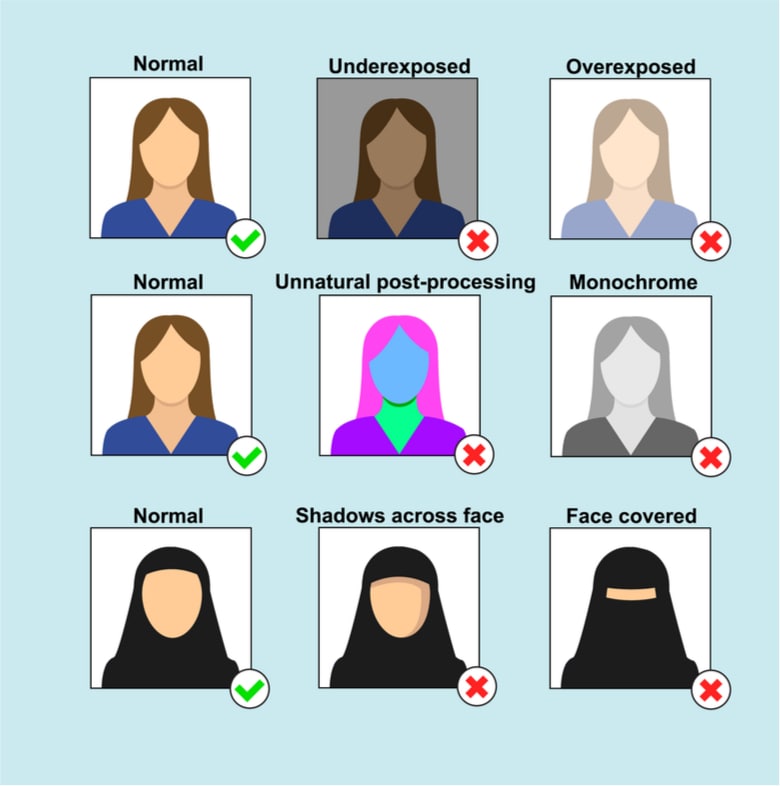 Vietnam visa application photo guidelines (Shutterstock)

This page is last updated on March 20, 2020
Frequently asked questions
Question:
Hello!
I received an email stating I need 2 passport size photos along with the visa approval letter. Is this necessary? What is it for? Please clarify. Thank you!
Samantha Hironaka
Answer:
Hello Samantha,
Yes, 2 passport sized photos are required at Vietnam airport. Please take a look on our guidelines above for more information about sizes and requirements.
Photos required when collecting visa at Vietnam international airport
Question:
Hi, your FAQs say to bring at least 2 photos of standard passport size (04*06 cm). I already have some recently taken photos which are size 04*05cm. Can you please tell me; will these photos be accepted or do I need to get some more photos that are size 04*06?
Thanks (David Jones)
Answer:
Hello David,
The required sizes are 4 x 6 cm or 2 x 2 inches. However, many of our visitors reported that the photo size is not a strict requirement, therefore, we believe that your 04*05cm photos are accepted.
Thank you,
Query re passport photos required
Question:
Good day,
I have received my approval letter from you for a visa for Vietnam. Upon arrival at the airport, we need to present a number of things in order to get the visa.
I was wondering if black and white passport photos would be accepted? Or should they be in colour?
The following information has been provided to me:
1- Valid passport (6 months of validity)
2- Two photos 4x6CM (2x2 Inches are accepted)
3- Letter of approval (PFD file that we sent to your email along with this email)
4- Stamping fee (In cash, credit cards are not accepted)
5- On arrival form or Entry/exit form
Kind Regards,
Karen Roos
Answer:
Hello Karen
Please be advised that the passport photos must be in color, printed on a quality photo paper. Please refer the above guidelines for reference!
Why apply with us
3-5 working days processing
No Hidden Charges
Prompt Support via chat, email, phone
Accept Credit/Debit Cards
100% money back guarantee for declined applications
Apply Now