1 - Visa at local Consulate
Address:

The nearst embassy is in Tokyo (35km, 1hr by The Toyoko Line)

Phone:

+81 3 34 66 33 11 (verified) (Verified as of February 2023)

Fax:

None

Email:

vnconsular@vnembassy.jp

Website:

www.vnembassy-jp.org
There is currently no embassy of Vietnam in Yokohama. Visitors from Yokohama can contact the embassy of Vietnam in Tokyo to apply for a Vietnamese visa. See maps and directions from Yokohama to the embassy of Vietnam in Tokyo.
Map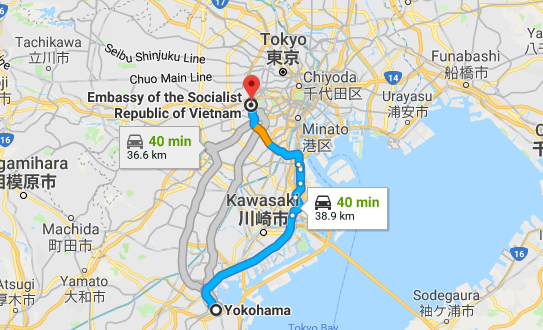 Route map to the Consulate of Vietnam from Yokohama (Data Copyright: Google maps)
2 - Visa on arrival from Yokohama
Visa on arrival is available for those who fly from Yokohama to Vietnam, below are the three simple steps:
Apply online using our secure form.
Receive the visa approval letter in 3-5 working days.
Print the document, board the plane to Vietnam and pick up the visa stamp upon arrival. That it is!
For detailed information about visa on arrival, please click here!