Overstay Vietnam Visa
Overstaying a Vietnam visa refers to the situation where a foreign national remains in Vietnam after the expiration date of their visa. The visa expiration date is the last day that the individual is allowed to stay in the country legally, and if they remain after this date, they are considered to have overstayed their visa.
Special notes:
If you overstay your visa for less than 3 days, you do not need to contact the local Immigration Office, you can go to the airport directly and pay for the penalty (about 22 USD per day ~500,000 VND) and get an exit visa to leave the country.
If you overstay your visa exemption period for just 1-2 days, you can do the same thing as above.
Overstaying a Vietnam visa is a violation of immigration laws and can result in serious consequences. The specific consequences of overstaying a Vietnam visa can vary depending on the individual case and the circumstances of the overstay, but may include fines, restrictions on future travel to Vietnam, or even deportation.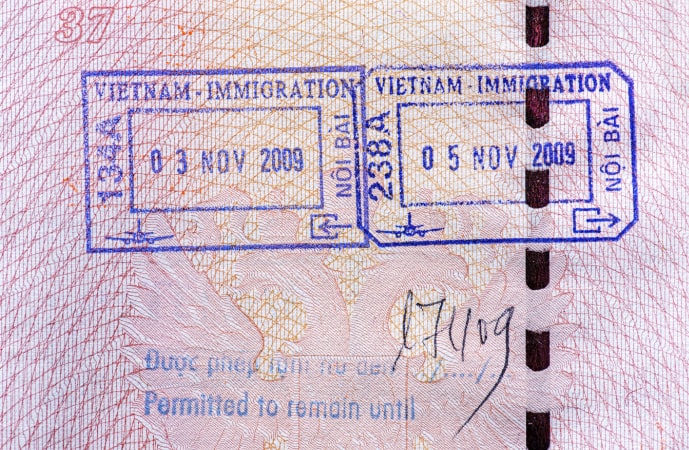 Avoid it whenever you can
Before discussing the possible penalty you may face at the time of departure for overstaying your visa, it is best to avoid it in the first place.
Always check the date on your visa stamp: There have been cases where the officials gives a wrong date on the stamp (postdating it back 1-2 months compared with the correct one can be a huge issue and you will not be able to explain all the details when caught violating the laws). Make sure that the visa you get shows all the correct details, especially the valid dates.

Keep a note or set an alarm of the last date you must leave the country: Sometimes you may be held off because of an extended trip, a wedding, hospital treatment or loss of documents which lead to the overstay. It's always helpful to remind yourself of this important date so as to avoid any possible penalty or consequences.
What to do when you overstay your Vietnam visa
Know the penalties: You will have to pay a fine fee for overstaying and either (1) extension fee if you plan on staying longer or (2) exit visa fee if you plan to exit. In case you plan to exit Vietnam right after overstaying, the situation may not be as serious and the penalty fee is not high - you can pay by yourself in the Vietnam Immigration Office at the airport and then leave the country. According to the 150/2005/NĐ-CP Decree, the fine will be between VND 500,000 and VND 2,000,000 (Source: http://www.moj.gov.vn/)

If you overstay for an extended period of time, you must submit your original passport and pay all dues at the local Immigration Office in Hanoi or Ho Chi Minh City. This is to avoid any potential delay or hold-off at the airport you may face later.
Overstay due to loss of passport
In case you lose your passport and stay beyond the visa valid date, go immediately to ward police and fill the Passport Lost Report and get confirmation sealed by the Ward Police. Then contact your Embassy in Vietnam for passport renewal which may take a few weeks. If your country does not have an embassy in Vietnam, you can contact the nearest Embassy in another country and ask for diplomatic note.

Your embassy or consulate will issue a letter to the Vietnam Immigration Department and request their support for a new visa or travel document for you to exit the country. You can then leave Vietnam using the new passport and exit visa.
How to exit Vietnam with an expired visa
You need to pay all the fines and complete any procedure as required by the local officials such as submitting a letter of explanation. If you overstay for just a few days, you can pay the fine directly to the Immigration Officer at Vietnam airport when you leave.
Questions and Answers (05)
Q
Max M
Ireland on July 19, 2023
I originally lost my passport and required a new one which I received. My Evisa from my first passport has now been expired a week. Can I just go to the airport, pay the fine and leave?
A
Lina Tran
Answered on July 19, 2023
@Max M, It is advised that you contact the local Immigration office for instructions as it is a case-by-case basis. In most cases, you will be able to get an exit visa on your new passport before leaving.
4 people found this helpful
Q
Cindy Lam
Canada on June 01, 2023
How long does it take to apply for a visa that has already expired more than 3 months? is there a way to expedite the application?
A
Lina Tran
Answered on June 02, 2023
@Cindy Lam, If you have already overstayed in Vietnam for more than 3 months, we advise that you contact the local Immigration office to obtain an exit visa in order to leave Vietnam and avoid any issues for your future visits.
7 people found this helpful
Q
Tina Czaja
Germany on April 18, 2023
My flight is on Monday, 24th April. We overstay the Visa for 6 days by then. We went to the Immigration Office in Hanoi today to solve our problem. They said, if we overstay less than 15 days, we could pay a Fine right at the airport and then Just fly. Is that correct? Our flight is at 9:35 am. When should we be at the Office at the airport to make sure we have time to pay the fine and get the stamp? Are you Open at any time?
A
Lan
Answered on April 18, 2023
@Tina Czaja, We advise you to comply with the guidance provided by the Hanoi Immigration Office, which entails paying the fine at the airport's Immigration counter upon departure.
3 people found this helpful
Q
Mal Kai
Germany on April 18, 2023
My passport allows me to stay in Vietnam for 15 days without a visa. So I have no visa. I have now been here for over a month as I didn't know these limits. Can I apply for a eVisa now?
A
Lan
Answered on April 18, 2023
@Mal Kai, It is not possible to get an e-visa while you are in country. We advise that you contact the local Immigration office to apply for an exit visa to leave Vietnam.
1 people found this helpful
Q
Nadia Prince
United States on April 18, 2023
I am very confused about this process and I was hoping you can help me. I applied and paid for a 30 day American tourist visa at the Vietnam Embassy in Vientiane, Laos.
My visa had incorrect dates- Entry 8 Feb - Depart 8 March. That is only 28 days, not 30. I believe this is a mistake, since February only has 28 days.
My flight leaving Hanoi is 10 March and I am unable to change it. I only want to correct my visa to have the 30 days I need and paid for, I don't want an additional 30 day extension. I went to the Hanoi immigration office and they were not very helpful, instead telling me to apply for an extension through an agency.
Also, are you aware of how much the fines would be if I overstay my visa those 2 days?
A
Lan
Answered on April 18, 2023
The visa's validity period is based on one month rather than 30 days, which means it will be valid from the current date until the same date next month (e.g., 08 Feb to 08 March). Therefore, the actual duration of the visa can vary, depending on the number of days in the given month. As for your inquiry about the penalty for overstaying, from our past customer's experience, the overstay charge is approximately 500,000 VND or ~23 USD per day.
Load More (

03

)
Frequently asked questions
1. I am in Hai Phong city at the moment, is there any Immigration Office here?
Yes, you can visit the Immigration Office below:
Address: 2 Tran Binh Trong, Luong Khanh Thien, Ngo Quyen District, Hai Phong
Phone: 0225 3921 420
Why apply with us
99% on time delivery
Easy & simple form
15+ years of experience
No hidden charges
100% money back guarantee for declined applications
Apply Now