Vietnam visa on arrival vs Vietnam evisa: Which one should you choose?
Both visa on arrival and e-visa are convenient ways to obtain a visa to visit Vietnam. However, each method has its own pros and cons, lets find out in our full visa on arrival vs e-visa review.
| Items | Visa on arrival | E-visa |
| --- | --- | --- |
| Year of Introduction | Early 2007 | February 2017 |
| Issued by | Immigration Department of Vietnam | Immigration Department of Vietnam |
| Eligibility | For air travelers (150+ countries) | Citizens from 80 countries |
| Visa validity | 1/3 month multiple entry, 6 month and 1 year multiple entry (US passports only) | 1 month single entry |
| Good for | Tourism/Business/Family or relative visits | Tourism only |
| Fees | 2 Fees: Approval letter fee + Stamping fee (25 USD for single entry, 50 USD for multiple entry) | 25 USD (non-refundable) |
| Processing time: | 2 working days for standard processing, 2 hours for emergency processing, also available for emergency on weekend | 3-5 working days |
| Ports of entry: | International airports in Vietnam (05): Hanoi, Hai Phong, Da Nang, Nha Trang & Ho Chi Minh City | 28 entry ports including air, sea and overland |
| How to apply | Apply online for an approval letter and receive the approval letter by email, then get the visa on arrival at Vietnam airport. | Apply online and download the e-visa through the status page in 3 working days* |
| Official website | None (All websites providing visa on arrival service are private agencies, be aware of fake government websites) | National e-visa portal (https://evisa.xuatnhapcanh.gov.vn/trang-chu-ttdt) |
| Support | Prompt support over phone, email, live chat or whatsapp anytime | Phone support is not available |
*Some of our customers reported that they receive the e-visa document after the 5th working day.
Which one to choose?
If you are in emergency situation, visa on arrival is the way to go as it takes only 2 working hours to obtain the approval letter (even on weekend).
If you want a longer term visa (3 month, 6 months) or for business purposes, visa on arrival is beneficial for your needs.
If you do not want to wait at Vietnam airport or arrive by land, e-visa is the best way to obtain your visa to Vietnam.
Sample of the Vietnam visa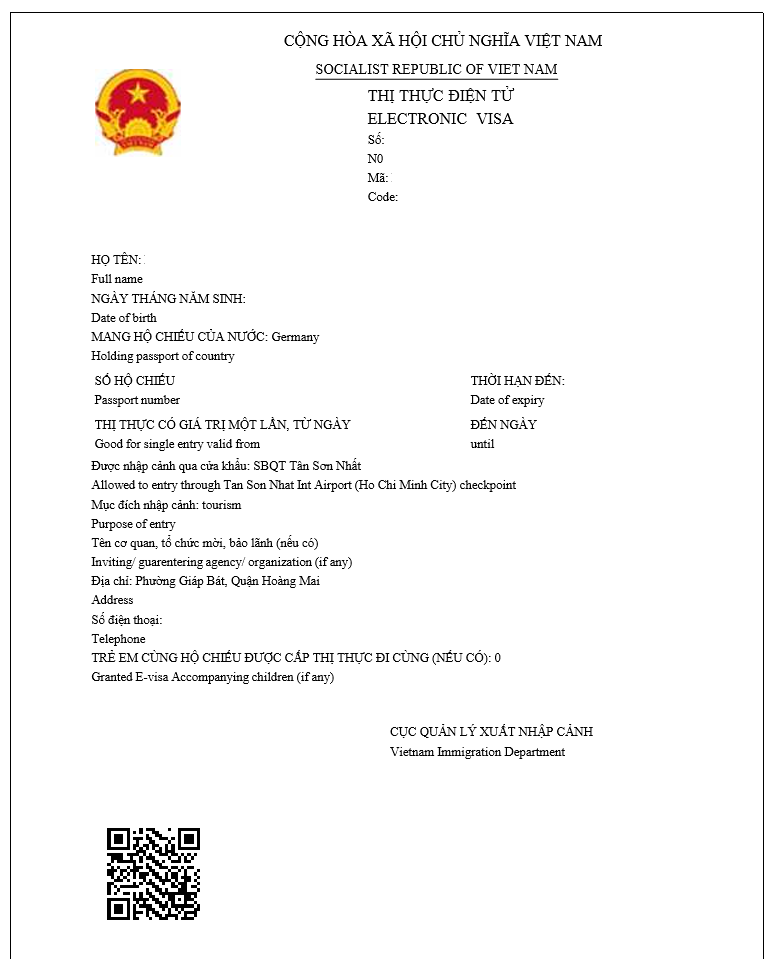 Vietnamese E-visa sample as of 2019
Frequently asked questions
Combination of Visa-on-arrival and E-visa
Question:
Hello,

I am the Czech Republic citizen with Czech passport and I would like to hear your advice regarding double tourist visa for tourist entry into Vietnam in total period of four months. I would like to buy air-tickets with arrival into Vietnam in September 2019 and return flight in January 2020. It means I would need to apply double visa request, because standard Visa-on-arrival allows entry for max three months for Czech citizens.

My question is - should I apply one visa-on-arrival request (with validity in dates from 15th September 2019 till 14th December 2019) and one e-visa request (with validity in dates from 15th December 2019 till 14th January 2020)? I would like to visit Cambodia in the gap between first and second visa validity. Is it ok and correct? Do you recommend combination of visa-on-arrival and E-visa for this purpose of three and one month stay? I expect I can apply for both visa requests first and then I can buy air-ticket after both visa requests will be approved.
First I expect to request Visa-on-arrival via myvietnamvisa.com
The second E-visa request would be bought via https://evisa.xuatnhapcanh.gov.vn
Thank you very much for any information or advice.


Kind regards,
Zbynek Ruzicka

Answer:

Hello Zbynek,

Yes, your plan looks good and you can apply for a visa on arrival for your first entry. However, we advise that you not to apply for 2 visas at the same time to avoid confusion and potential problems. Once you are in Cambodia, you can apply for an e-visa or even visit the embassy of Vietnam in Cambodia to get your visa for your second entry to Vietnam. Below is our detailed instructions on how to get your visa in Cambodia:

https://www.myvietnamvisa.com/how-to-get-visa-in-cambodia.html

We hope that it helps!
Why apply with us
3-5 working days processing
No Hidden Charges
Prompt Support via chat, email, phone
Accept Credit/Debit Cards
100% money back guarantee for declined applications
Apply Now