Vietnam visa on arrival vs Vietnam evisa: Which one should you choose?
When planning a trip to Vietnam, there are two main options for obtaining a visa - Vietnam Visa on Arrival (VOA) and Vietnam eVisa. Understanding the difference between these two options is important to ensure a hassle-free experience when entering the country.
Major Differences
One of the main differences between visa on arrival and eVisa is the processing time. With the e-visa, the processing time can take up to 7-10 working days, while with visa on arrival, the processing time is usually within 24-48 hours. Additionally, with visa on arrival, there is no need to visit a Vietnamese embassy or consulate as the entire process can be done online, making it a more convenient option for many travelers.
Updates: As of 2023, The option of getting a visa on arrival is now limited to travelers who visit Vietnam as part of an organized tour arranged by a local tour operator.
| Items | Visa on arrival | E-visa |
| --- | --- | --- |
| Year of Introduction | Early 2007 | February 2017 |
| Issued by | Immigration Department of Vietnam | Immigration Department of Vietnam |
| Eligibility | For air travelers (150+ countries) | Citizens from 80 countries |
| Visa validity | 1/3 month multiple entry, 6 month and 1 year multiple entry (US passports only) | 1 month single entry |
| Good for | Tourism/Business/Family or relative visits | Tourism / business / family visit (Short term visits, 30 days) |
| Fees | 2 Fees: Approval letter fee + Stamping fee (25 USD for single entry, 50 USD for multiple entry) | 25 USD (non-refundable) |
| Processing time: | 2 working days for standard processing, 2 hours for emergency processing, also available for emergency on weekend | 3-5 working days (expedited service available) |
| Ports of entry: | International airports in Vietnam (05): Hanoi, Hai Phong, Da Nang, Nha Trang & Ho Chi Minh City | 33 entry ports including air, sea and overland |
| How to apply | Apply online for an approval letter and receive the approval letter by email, then get the visa on arrival at Vietnam airport. | Apply online and download the e-visa through the status page in 3 working days* |
| Official website | None (All websites providing visa on arrival service are private agencies, be aware of fake government websites) | National e-visa portal (https://evisa.xuatnhapcanh.gov.vn/trang-chu-ttdt) |
| Support | Prompt support over phone, email, live chat or whatsapp anytime | Phone support is not available |
Note: *Some of our customers reported that they receive the e-visa document after the 5th working day.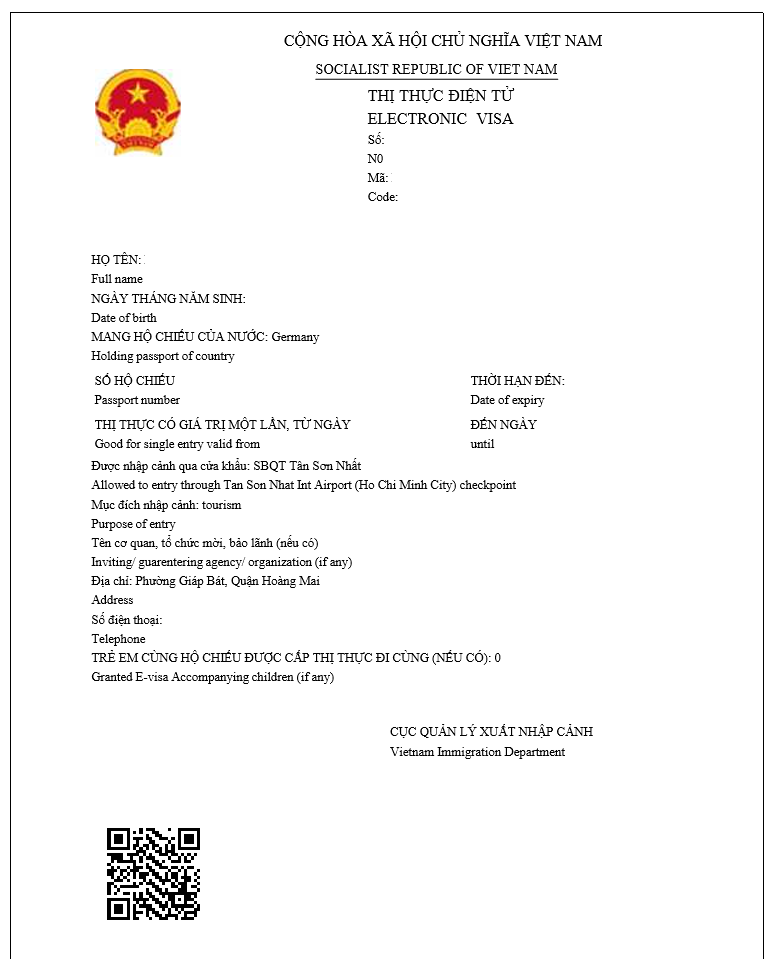 Which one to choose?
If you are in emergency situation, visa on arrival is the way to go as it takes only 2 working hours to obtain the approval letter (even on weekend).
If you want a longer term visa (3 month, 6 months) or for business purposes, visa on arrival is beneficial for your needs.
If you do not want to wait at Vietnam airport or arrive by land, e-visa is the best way to obtain your visa to Vietnam.
Questions and Answers (07)
Q
Melissa Wildschut
Australia on July 24, 2023
I am travellers to Vietnam in March and staying for 2 months. Can I apply for evisa or must I complete all papers on arrival ?
A
Lina Tran
Answered on July 24, 2023
@Melissa Wildschut, You can apply for a 3-month e-visa to stay in Vietnam for 2 months in March next year; all can be done online in advance.
2 people found this helpful
Q
Sachin Thorat
Australia on July 13, 2023
I am Australian passport holder and need to visit Vietnam for 3/4 weeks but during that period I may be visiting Cambodia/Thailand so is it better to apply for Visa on arrival with multiple entries or just get an tourist visa!
A
Mai Le
Answered on July 13, 2023
@Sachin Thorat, Starting from August 15th, 2023, you will be able to obtain a multiple-entry e-visa. Therefore, we advise that you apply for a multiple entry e-visa for your trip to Vietnam instead of visa on arrival!
5 people found this helpful
Q
Lyiiszaa
Germany on July 09, 2023
Hello, I'm from Germany and I plan to travel to Vietnam from 10th August 2023 to 27th September 2023 and in the last one/two weeks I am planning to visit Korea. My stay in Vietnam would be a little over 1month and I would need to re-enter vietnam for my flight back to germany. Should I take Visa on arrival (which I believe is 15 days for german passport holders) and then once the new 3 Month e-visa is available (15th August) , applying for that while being in Vietnam? Or after Visa on arrival has expired? Or should I get an e-visa first and then extend it? I want to save some costs on getting so many visas 😅
A
Lina Tran
Answered on July 09, 2023
@Lyiiszaa, The 3-month visa is currently unavailable, including 3 month visa on arrival. Therefore, we recommend you to apply for a 30-day e-visa instead. Once you are in South Korea, you can get another 30-day visa or even a 3-month visa to return to Vietnam before flying back to Germany.
3 people found this helpful
Q
KW
United States on June 26, 2023
With an e-visa, do they actually stamp your passport upon arrival into Vietnam? If so, is it a visa stamped into your passport, or just an immigration entry stamp? Thanks.
A
Lina Tran
Answered on June 26, 2023
@KW, For an e-visa, since it is an actual visa, they will only put an immigration stamp (entry/exit) on your passport.
3 people found this helpful
Q
paul immergluck
United States on June 08, 2023
how far in advance can you apply for an Evisa? We want to enter Vietnam in December but will be traveling for 3 months prior/
A
Lina Tran
Answered on June 08, 2023
@paul immergluck, You can apply for an e-visa today or anytime you wish to travel in December. The visa will be valid from the date you choose on the application form, not from the date that you submitted the application.
1 people found this helpful
Q
Steve Hill
Australia on May 18, 2023
With an E-Visa do I actually receive any documentation to present at immigration when I arrive in Vietnam ? Thanks
A
Mai Le
Answered on May 18, 2023
@Steve Hill, Yes, an e-visa is a complete visa document that allows you to enter Vietnam without having to wait at the landing visa counter, as you would with a visa on arrival.
2 people found this helpful
Q
Zbynek Ruzicka
Czech Republic on April 24, 2023
I am the Czech Republic citizen with Czech passport and I would like to hear your advice regarding double tourist visa for tourist entry into Vietnam in total period of four months. I would like to buy air-tickets with arrival into Vietnam in September 2023 and return flight in January 2024. It means I would need to apply double visa request, because standard Visa-on-arrival allows entry for max three months for Czech citizens.
My question is - should I apply one visa-on-arrival request (with validity in dates from 15th September 2023 till 14th December 2023) and one e-visa request (with validity in dates from 15th December 2023 till 14th January 2024)? I would like to visit Cambodia in the gap between first and second visa validity. Is it ok and correct? Do you recommend combination of visa-on-arrival and E-visa for this purpose of three and one month stay? I expect I can apply for both visa requests first and then I can buy air-ticket after both visa requests will be approved.
First I expect to request Visa-on-arrival via myvietnamvisa.com
The second E-visa request would be bought via https://evisa.xuatnhapcanh.gov.vn
A
Lina Tran
Answered on April 24, 2023
@Zbynek, Your plan looks good and you can apply for a visa on arrival for your first entry. However, we advise that you not to apply for 2 visas at the same time to avoid confusion and potential problems. Once you are in Cambodia, you can apply for an e-visa or even visit the embassy of Vietnam in Cambodia to get your visa for your second entry to Vietnam. Below is our detailed instructions on how to get your visa in Cambodia:
Load More (

05

)
Frequently asked questions
1. I am a South Africa passport holder, can I apply for an e-visa?
Unfortunately, e-visa is not available to South African citizens at the moment. If you are joining an organized tour in Vietnam, you can consider using visa on arrival instead.
Why apply with us
99% on time delivery
Easy & simple form
15+ years of experience
No hidden charges
100% money back guarantee for declined applications
Apply Now
Need more help?
Contact us at:
Questions? Chat with us!)
(8.00 AM-16.00 PM, GMT+7, Whatsapp)
Sun Dec 03 2023,
20:58:41
(Hanoi)