How to get a Vietnam visa on Weekend
Is it possible to get a Vietnam visa on very short notice over a weekend? The answer is that it is possible, however it's more expensive than what you need to pay on week days. If you are in need of a visa for your last minute trip, here is some important information for getting your visa as quickly as possible on Saturdays, Sundays & public holidays.
Urgent Notice: Visa on arrival has been suspended since 2020, therefore, it is no longer possible to get a visa on weekend. If you require further assistance, please feel free to chat with our support team below or contact us via 24/7 email support or  
Before you proceed:
Your passport must be valid for at least 6 months beyond your entry date.
You have two photos (recently taken, 4*6cm)
Your passport has 2 blank pages for the visa stamp.
You must arrive by air at one of the international airports in Vietnam.
Weekend visa is available for single entry - 1 month only.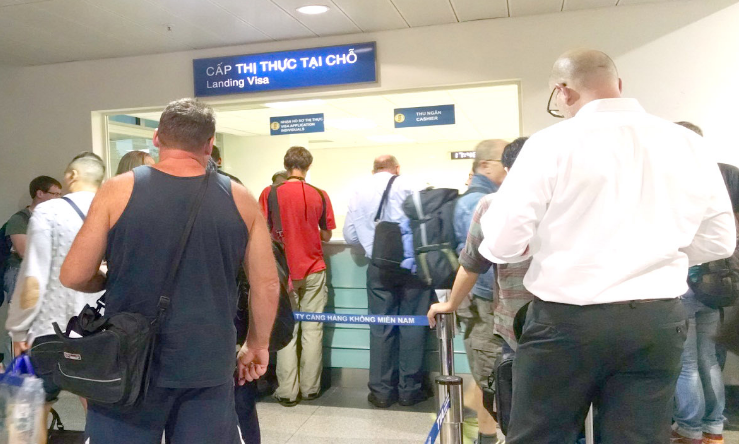 What is Vietnam visa on weekends and holidays?
Getting a visa on arrival may be the most efficient option for obtaining a Vietnam visa during weekends and holidays, rather than waiting for approximately 5-7 days to obtain a visa at the Vietnamese Embassy or 3 days for an e-visa.
A visa-on-arrival requires foreigners to obtain a pre-approved visa letter via an online visa agency and can get a visa upon arrival at the airport in Vietnam. For regular service, you can get an approval letter within 2 to 5 working days. However, you can just need 2-4 hours to get one with urgent service and can start your trip to Vietnam right after.
Vietnam visa service on weekends and holidays are used for the following cases:
Entering Vietnam by air on weekends or holidays.
Entering Vietnam by air at non-working hours such as 00:00-8:00, 11:00-14:00, and after 16:00.
Who needs this?
There are a bunch of cases for a non-working time visa application, namely:
Foreigners who come to Vietnam on weekends, holidays, or non-working hours (early Monday morning).
Foreigners who forget to apply for a visa or fail to get a visa in time before the flight and have a compulsory plan to enter Vietnam on weekends/holidays.
Foreigners who get an incorrect visa letter or e-visa that stops them from boarding the plane.
Foreigners who fly to Vietnam in case of emergency.
Who is not eligible?
Foreigners entering Vietnam for business purposes can not apply for a business visa (visa DN) on Saturday or Sunday and get the visa on the same day.
Citizens from non-eligible countries for visa-on-arrival are not eligible to apply for a non-working time visa.
How to apply
You can obtain a visa on weekends or holidays with the assistance of a local agency in Vietnam. The process includes four steps:
Step 1: Contact a visa agency to apply for a visa approval letter.
You will need to complete an online application form and provide your passport information, including your entry date.
Step 2: Pay the service fee
The fee for the approval letter varies depending on the policy of each agency. The faster you require the letter, the higher the fee will be. Generally, the cost of an approval letter can range anywhere from $90-$180 USD.
Step 3: Receive the visa approval letter
The agency will process and send you with a visa approval letter and a visa application form (NA1). You will need to complete the form, print the approval letter, and have a valid passport with two passport-sized photos ready for the visa stamping process.
Step 4: Get the visa stamp at the airport
After arriving at Vietnam airport, you present all documents needed at Immigration/ Landing Visa/ Visa-on-arrival counter, pay a stamping fee and get the visa stamped to your passport.
Processing time
The processing time for a pre-approved visa letter is usually between 2-4 hours or within one day, provided the agency receives all the necessary documents and full payment. Besides, it takes you around 15 - 30 minutes to get the visa stamp at the arrival port.
Before 8:00 AM: If you submit your application before 8:00 Am Vietnam time, you will receive the approval letter by 12:00 Pm.

Before 14:00 PM: If you submit your application before 14:00 Pm, you will receive your approval letter by 18:00 Pm same day.
List of holidays in Vietnam
Here is a list of public holidays in Vietnam when the Immigration office may be closed:
| Date | Holiday |
| --- | --- |
| 1st January | New Year |
| 30th Lunar December - 4th Lunar January (5 days) | Tet Holiday / Lunar New Year |
| 10th Lunar March | Hung King Festival |
| 30th April | Reunification Day |
| 1st May | International Labor Day |
| 2nd September | Independence Day |
Questions and Answers (07)
Q
Pallab
India on August 04, 2023
I have applied for Vietnam e-visa on Sunday, 30th July. The status was updated as amendment and was requested to submit a clearer copy of passport on 3rd August which I have submitted immediately. When can I expect my approval letter at the earliest? Is there anything that can be done to expedite the process?
A
Lina Tran
Answered on August 05, 2023
@Pallab, When you submitted an amendment, it may take another day or two for your e-visa to be reviewed and approved. It is advised that you check the status page frequently for updates.
2 people found this helpful
Q
An Chau
United States on July 29, 2023
I'm trying to get a visa for both my kids to Vietnam. The flight is tomorrow 10pm. It's also a Saturday.
A
Lina Tran
Answered on July 29, 2023
@An Chau, Unfortunately, it is not possible to obtain an expedited e-visa on weekends at the moment. The earliest possible time is around noon on Monday. Therefore, please reschedule your flight!
1 people found this helpful
Q
Cynthia
United States on April 15, 2023
I am looking to understand the expedited visa process. I submitted an e-visa application on Friday morning. Is it possible to expedite this visa or apply for a VOA pre approval instead at a faster rate? If I work with you will I be guaranteed a visa Monday morning if possible?
A
Ryan Vu
Answered on April 15, 2023
@Cynthia, The earliest possible on Monday would be 14:00, so we advise that you book your flight accordingly. Weekend visa processing is temporarily unavailable. We apologize for the inconvenience!
3 people found this helpful
Q
Alexa
France on April 08, 2023
Can you tell me how much is it to get a visa ? I should fly tomorrow for'30 days but my visa is denied because of an « ICAO error » and they do not process visa the weekend) I saw on your website you can?
A
Mai Le
Answered on April 09, 2023
@Alexa, it is possible to get an e-visa in 1 day or same day tomorrow, Monday, kindly use this form to submit your application! Have a good weekend
2 people found this helpful
Q
Ludwig
Norway on April 07, 2023
Me and my girlfriend has applied for the Visa wendesday morning but havent recieved the visa yet. We are currently in Indonesia and are flying to ho chi minh through singapore with a long layover. We will arrive in Vietnam on sunday. Do you have any suggestions on how we can do please?
A
Mai Le
Answered on April 07, 2023
@Ludwig, weekend visa is not available at the moment, the earliest possible would be Monday next week. Please reschedule your flight. Thank you
Q
Michael Stoddart
Australia on April 07, 2023
We fly from Sydney Sunday at 3pm and our visa is still showing as processing. Can you get it expedited? Arrival is Ho Chi Minh at 9pm Vietnam time!
A
Lan
Answered on April 07, 2023
@Michael Stoddart, it is not possible to get an e-visa on weekend at the moment, please rearange your flight to later time on Monday. Thank you
1 people found this helpful
Q
Sophie
Ireland on April 07, 2023
I applied for a Vietnam e-visa on Monday and have since had it denied due to my name being in the wrong order on the application. I've only realised that the mistake never corrected itself and am due to fly to Vietnam on Sunday 09/04 in the morning. Is there any way you can facilitate an emergency visa application that would be processed by Sunday ? Or what are my options.
A
Lan
Answered on April 07, 2023
@Sophie, we are afraid that it is not possible to expedite your e-visa on weekend. We advise that you reschedule your flight to next Monday. We apologize for any inconvenience it may have caused!
4 people found this helpful
Load More (

05

)
Frequently asked questions
1. Is it possible to obtain a business visa on Saturday?
No, it is not possible. Business visa processing is available during week days only, from Monday to Friday. If your trip is emergency, you can apply for a tourist visa instead.
2. Can I apply for a 3 month visa on weekend?
Yes, 3 month visa multiple/single entry is available for weekend processing. If you submit your application before 8:00 Am Vietnam time, you will receive the approval letter same day by 19:00 PM.
3. What is the latest time to apply to get an approval letter before 6:00 pm on Sunday?
To get your approval letter by 6:00 PM Vietnam time on Sunday, please submit your application before 14:30 PM.
4. I want to apply for a visa for an early entry on Monday, can I apply for a weekend visa?
Yes, sure. You can submit your application to receive the approval letter on Sunday for your trip on early Monday.
5. Can I apply for a weekend visa if I travel overland from Cambodia to Vietnam?
We are afraid that the visa on arrival is applicable for air travel only. If you plan to enter Vietnam by land, you are required to obtain a full visa in prior to your trip.
6. How can I confirm that my approval letter has been processed?
Applicants will get an approval letter by email. Thus, you should check your email frequently to make sure your flight will depart as scheduled.
7. Are Vietnamese airports busy on weekends?
Yes, airports in Vietnam often receive a higher number of passengers during weekends than on weekdays.
8. What are photo requirements?
Applicants need to prepare 02 photos in accordance with the requirements: identical photos, taken within 6 months since the application, size 4x6cm, white background, not wearing glasses or headscarf, looking straight.
9. How long is the validity of an urgent visa through this service?
The visa you get through the non-working time visa service can have a validity of 1 month or 3 months, single entry or multiple entries.
10. Can I get a business visa on weekends via overtime service?
No. Foreigners cannot get a business visa (Visa DN) on Saturday and Sunday via overtime service.
Why apply with us
99% on time delivery
Easy & simple form
15+ years of experience
No hidden charges
100% money back guarantee for declined applications
Apply Now