Vietnam Visa For Cruise Ship Passengers
About 58,000 cruise passengers from America, Australia, Europe and Asia visited Vietnam in 2017. Cruise passengers visiting Vietnam are now granted a loose-leaf visa with a fee of 5 USD per person upon arriving at a Vietnam sea port.
SPECIAL NOTES:
Always keep the passport and visa with you when you travel on land.
If your cruise makes more than one stop in Vietnam, you will get the entry visa from the first port and complete the departure process at the lass port. At other stops in between you just need to show the passport and visa for verification purpose only.
Your cruise may offer to arrange your entry visa and charge their own fee for this service.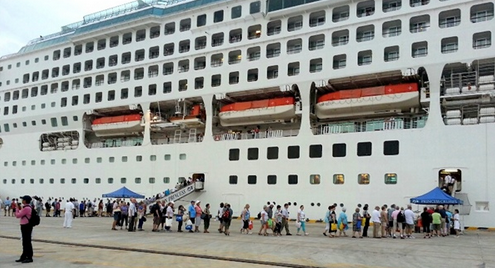 Passengers arriving in Ho Chi Minh city port (vietnamtourism.gov.vn)


HOW TO APPLY
Cruise passengers can apply for a loose-leaf visa when entering Vietnam (certain nationalities do not need a visa for Vietnam, check if you are eligible for a visa exemption here). Both the arrival and departure procedures are easy and straightforward:
Arrival procedure: The cruise or local tour operator will hand you the application form to fill out. Upon disembarking, you can submit this form, your passport and pay the applicable fee ($5 US/person). The border services officer will issue a loose-leaf visa document.

Departure procedure: As you complete your excursion in Vietnam and return to your cruise, you must show both your passport and the visa to receive the confirmation of departure issued by the the border service officers. The visa shall be deemed invalid at this point.
CRUISE PORTS IN VIETNAM
Da Nang/Hue/Chan May Port

Phu My Port (Ho Chi Minh City)

Hanoi/Halong Bay Port

Nha Trang Port

Cai Lan Port (Quang Ninh)
QUESTIONS AND ANSWERS
Q1: I am a US citizen. Will arrive by cruise ship in Vietnam 9/03/2019 till 15/3/2019. Am I able to apply for visa by post or do I have to travel to Washington DC which is 200 miles away. Thanks. (Margaret Asher, United States)
A: If you are living far away from the embassy, you can apply for your visa to Vietnam by post. Kindly contact the embassy of Vietnam in Washington DC for the fees and application documents.

Q2: If I arrive Vietnam ports by cruise ship, will "visa on arrival" be workable? Or it is only good at airports? For Canadian passport holders OK ? For Hong Kong SAR passport holders OK? If I enter 2 Vietnam ports in 2 separate days all within 3 days, do I need a single or multiple entry visa? (C. Ng, from Hong Kong)
A: You can ask the cruise operator to arrange the visa for you or you can obtain a loose-leaf visa upon landing at Vietnam seaport because visa on arrival is not available for arriving by cruise ships. For your cruise itineraries, you need a single entry visa only for cruising between different ports in Vietnam.
Q3: We will be travelling on a cruise ship in Dec 2019, stopping in Ho Chi Minh City, Hue, and Hanoi. We want to leave the ship at the port of Hue, and travel by land from Hue to Hanoi, then join the ship again in Hanoi. What visa requirements do we need? I am a citizen of the United Sates. My friend is a citizen of Costa Rica, who also has a visa for the U.S. We will only be in Vietnam for a few days. Do we need a visa? (Gary Rose, from United States)
A: Visas are required for US and Costa Rican passports. As you exit the cruise ship for land travel to Hanoi from Hue, it is advised that you contact the embassy of Vietnam in the US to apply for a visa before you go.
Q4: I am planning to visit and enter Vietnam by cruise ship and travel along the coastline of Vietnam. Three stops at cruise ship ports are planned. Can I enter Vietnam with visa-on arrival that I would get at the port ? How often can I enter Vietnam while we stop along the coastline of Vietnam? (M. Horntrich, USA)
A: Visa on arrival does not work for cruise entry, you can apply for a loose-leaf visa at Vietnam port terminal when you arrive which will allow you to stop at as many ports as you want during your trip in Vietnam. However, it is advised that you contact your cruise operator for visa information because most cruises will offer visa arrangements for their passengers.
Q4: We're going to Vietnam by Princess cruise and try to apply visa online but found that all ports of entry are airport, kindly advise what should we enter. The cruise is going to Halong Bay, Da Nang, NRA Trang and Phu My, pls advise if it is treated as a single entry or multiple entries.(Loretta Lo)
A:As the itinerary you have mentioned, you need a single entry visa only. You can either apply for a loose-leaf visa at the first port of arrival or contact Princess cruise for visa arrangements.
Have a question? please ask us here!

Last updated: November 01, 2018
Frequently asked questions
Can I apply for a visa on arrival if I enter Vietnam on a cruise ship?
No, visa on arrival is for air passengers only. You can ask the cruise operator to organize visas for your cruise trip to Vietnam.
How much is the entry visa fee for cruise passengers?
As of 2018, the fee for a loose-leaf visa is 5 USD per person.
Why apply with us
3-5 working days processing
No Hidden Charges
Prompt Support via chat, email, phone
Accept Credit/Debit Cards
100% money back guarantee for declined applications
Apply Now