Vietnam 1 Year Visa for US Passport Holders
U.S citizens are eligible to apply for a 1-year multiple-entry visa with a maximum stay of 90 days for each entry. However, as of 2023, this type of visa is currently unavailable.
Presently, Vietnam passport holders are allowed to apply for a US 1-year multiple-entry visa, and US passport holders are also allowed to apply for a Vietnam 1-year multiple-entry visa. This decision has come into effect since August 2016 and brings many conveniences to citizens of the two countries.
Based on needs, foreigners who frequently travel back and forth to Vietnam for vacation, traveling or doing business activities within a year are highly recommended for this type of visa.
1-year visa in brief:
Year of introduction:

1-year visa eligibility:

US passport holders only (Not applicable to green card holders).

Maximum stay:

How to apply:

At Vietnam embassy in the US
Visa on arrival

Requirements:

Valid passport (Minimum 1 year)
Passport sized photos
Who is eligible?
Except for Green card holders or Lawful permanent residents (LPRs) who are legally permitted to live in the US permanently but are not US citizens, all the other US passport holders are eligible to register for a 1-year visa to Vietnam.
Conditions
To get a 1-year visa, the following requirements must be met:
Having a passport with at least 1 year of validity.
Having a company/organization/agency in Vietnam to guarantee the visa application and entry purposes of traveling or business.
Having a travel schedule in Vietnam.
Having bookings of round-trip tickets to enter and exit Vietnam.
Dossiers
To get ready for the visa application, applicants have to prepare all documents as follows:
Visa application form by the guaranteed agencies/organizations (Form NA2)
Tour schedule, flight tickets, accommodation reservation
Date of entry and port of entry
A photo of the passport data page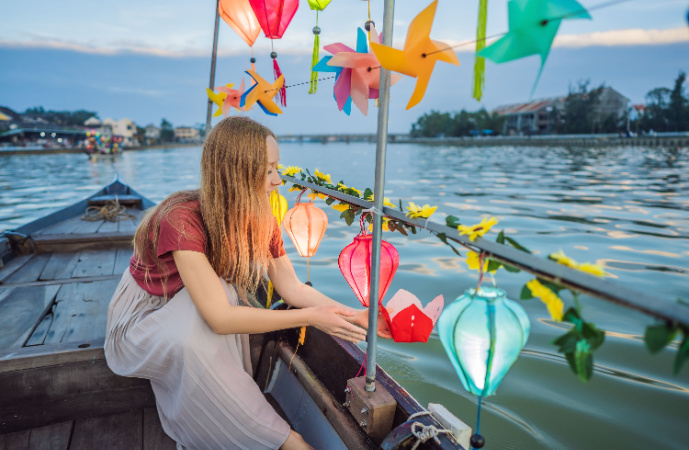 How to apply
US passport holders can choose one of two following ways to apply for a 1-year visa.
At Vietnam Embassy/Consulate: Contact the nearest embassy of Vietnam in your residing country to get more details on the document requirements. After you submit all documents required, the process may take 05 working days. You pay the visa fee, get your original passport back and receive the visa in advance of your trip.
Visa on arrival: You apply for a visa approval letter online at a Vietnamese agency. After around 2-4 days, you get the letter provided by the Immigration Department along with the visa application form. Print a hard copy of these documents to board the plane and prepare your original passport, 02 passport-size photos (4x6cm and taken within 6 months), and a stamping fee to get a visa stamp at the airport in Vietnam.
Processing time 
Processing time of a 1-year visa at the Embassy is around 05 working days (except for holidays) and visa on arrival is 2-4 days for a visa letter (urgent service available) and 15-30 minutes at the airport for queuing to get a visa stamp.
Visa fee
Visa on arrival: Service fee and stamping fee will be charged.

Service fee: 50-90 USD
Stamping fee at Vietnam airport: US$135.
Questions and Answers (0)
Be the first to ask a question on this page!
Frequently asked questions
1. Does the 1-year visa restrict the number of entries to Vietnam?
No. 1-year visa for US citizens allows foreigners to enter Vietnam multiple times within 1 year.
2. Can I apply for a 1-year visa online?
E-visa is not available for a 1-year visa. However, you can apply for a visa-on-arrival through a visa company/agency that has an international travel business license in Vietnam. The process will be conducted online in which you will get a visa approval letter by email and can get a visa stamp at the arrival airport in Vietnam. This is also the most convenient way if you choose to get to Vietnam by air.
3. What are the photo requirements if I apply for a 1-year visa on arrival?
You need to prepare 02 photos in which a photo is glued on the visa application form and the other is presented if needed. Both photos must be the same, taken no later than 6 months ago, in size 4x6 cm, white background, and applicants must look straight and must not wear glasses or headscarves.
4. I have a Green card in the US, is it possible for a 1-year visa?
Currently, green card holders are not eligible for a 1-year visa.
5. Should I get a visa at the Embassy or a visa on arrival?
You can consider some pros and cons of both ways below and your own case to choose the best one for you.
Visa at Embassy:

Pros: The most regular way to obtain any kind of visa with the exact requirements and support in person; cost-saving.
Cons: Documents must be submitted in person or by post which takes time and travel cost/postage cost; longer processing time (around 05 working days).

Visa on arrival:

Pros: No passport sendoff and dossiers submission in person; quick processing time from a few hours to 3-4 days (for visa approval letter)
Cons: Only applied for airway travelers; varied fees including service fee for Vietnam agency and stamping fee.
Why apply with us
99% on time delivery
Easy & simple form
15+ years of experience
No hidden charges
100% money back guarantee for declined applications
Apply Now
Need more help?
Contact us at:
Questions? Chat with us!)
(8.00 AM-16.00 PM, GMT+7, Whatsapp)
Sun Dec 03 2023,
22:20:13
(Hanoi)