5- Year Visa exemption for Overseas Vietnamese
Disclaimers: Whilst every effort is made to ensure the information is correct and up to date, there may be changes which we are not aware of.
According to a new Government Decision; Overseas Vietnamese are eligible to apply for a 5 year visa-free certificate. The certificates will be granted by either Overseas Vietnamese diplomatic missions and consulates; or by Immigration Offices in Hanoi or Ho Chi Minh city.
Overseas Vietnamese people that hold foreign passports and foreigners who are their wives, husbands and children are allowed to enter Vietnam without visa for no longer than 90 days for each entry. In order to be granted visa exemption certificates at Vietnamese representative offices abroad, Overseas Vietnamese need the following conditions:
Foreign-issued permanent residence certificate (PRC) with the validity of at least six months since the date of entrance.
Visa exemption paper (VEP) is granted by Vietnamese appropriate authorities
Those who expect to stay more than 90 days must apply for visa according to current stipulations before their entrance. Please visit the official website (Vietnamese language only): http://mienthithucvk.mofa.gov.vn/ for detailed instructions on how to get the visa exemption certificates.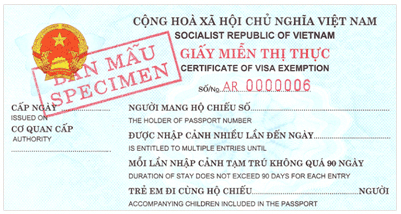 5-year certificate sample

Recommended reading: Who are eligible for the overseas Vietnamese visa exemption?
Last updated: January 01, 2019
Frequently asked questions
My certificate is expired, can I renew it or get a new one?
Yes, you can. If your certificate is expired, you are able to renew it or get a new one with the same procedures.
Why apply with us
3-5 working days processing
No Hidden Charges
Prompt Support via chat, email, phone
Accept Credit/Debit Cards
100% money back guarantee for declined applications
Apply Now