First timer's guide to Vietnam
About Vietnam
Vietnam is a small and, until recently, relatively unvisited country in Southeast Asia, surrounded by several mountain ranges to the west and sparkling ocean to the east. Nowadays the country is better known for its stunning beaches, tumbling rice paddies and high-octane cities.
Whilst the country is small, at least by Asian standards, it's long, thin shape means that Vietnam enjoys incredible variety. Ancient ethnic minorities, rolling rice terraces and towering limestone karsts make up the mountainous north, whilst central Vietnam is famed for its white-sand beaches, historic towns with UNESCO status, and the most sophisticated and delicious cuisine in Vietnam, if not the world. Vietnam's south on the other hand is characterized by steaming deltas, fairy tale islands and city's that rival any of the world's greatest. Welcome to Vietnam.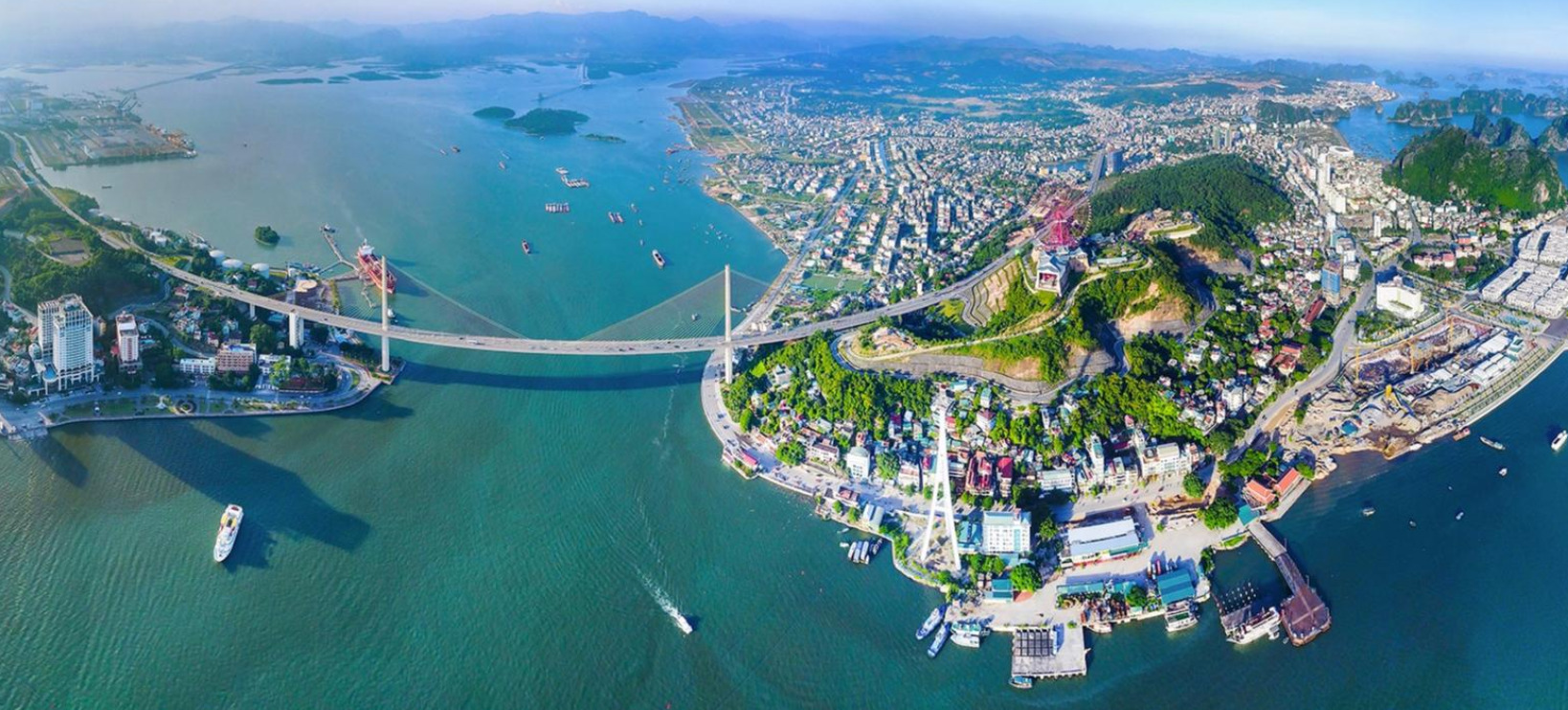 Halong Bay from above (Zing.vn)

Why Vietnam?
Vietnam is an ancient country, which until the 1980's saw only but the most intrepid of traveler cross its borders. Nowadays, the nation is enjoying its time in the sun, with tourism numbers reaching 12 million in 2017, a 30% rise on the preceding year. And, numbers aren't set to drop any time soon. Vietnam is a strong favorite of everyone from student backpackers, to elderly couples, to families, to friends from all over the world. Put simply, here are our most convincing of hundreds of points as to why Vietnam has to be on your travel bucket list:
Easy to travel: Vietnam is one of the easiest countries in all of Asia to travel in thanks to a reliable, affordable and expansive network of trains, buses, flights and local transport. You can get from any corner of the country to any other simply by comfortable public transport, and no part of the country is shut off from foreigners.
Affordable: As well as cheap travel, Vietnam is one of, if not the cheapest countries in the whole of Asia. Hotels, transport, souvenirs, meals, drinks and everything in between are staggeringly cheap compared with other Asian destinations, even including notoriously affordable countries such as Thailand. That means that more people can afford to travel to Vietnam, as a little bit of cash can go a long way.
Beautiful: Beauty is everywhere in Vietnam. The country is blessed with mountains, forests, jungles, beaches, islands, and national parks, but even the cities are beautiful in their own way. You only have to spend a few minutes in Vietnam's bustling city, Hanoi, to see tropical flowers growing out of ancient buildings, peaceful lakes facing intricate pagodas.
Friendly: The Vietnamese are notoriously sociable, kind and giving. Guests to the country will really get the feel of what makes Vietnamese culture so special, as you watch young and old chew the fat on small stools out in the open air, the elderly taken care of by their community, and bright smiles on the faces of those you simply pass on the street.
Foody paradise: Long overshadowed by culinary monolith, Thailand, Vietnamese food is beginning to make headway in foody circles across the rest of the world. And once you try it, you'll understand why. Sweet, salty, sour and savory flavors are balanced to perfection in every dish, and the myriad accompaniments to every meal add freshness and personalization that you'll struggle to find anywhere else on earth.

Whatever the weather – put the date in your diary!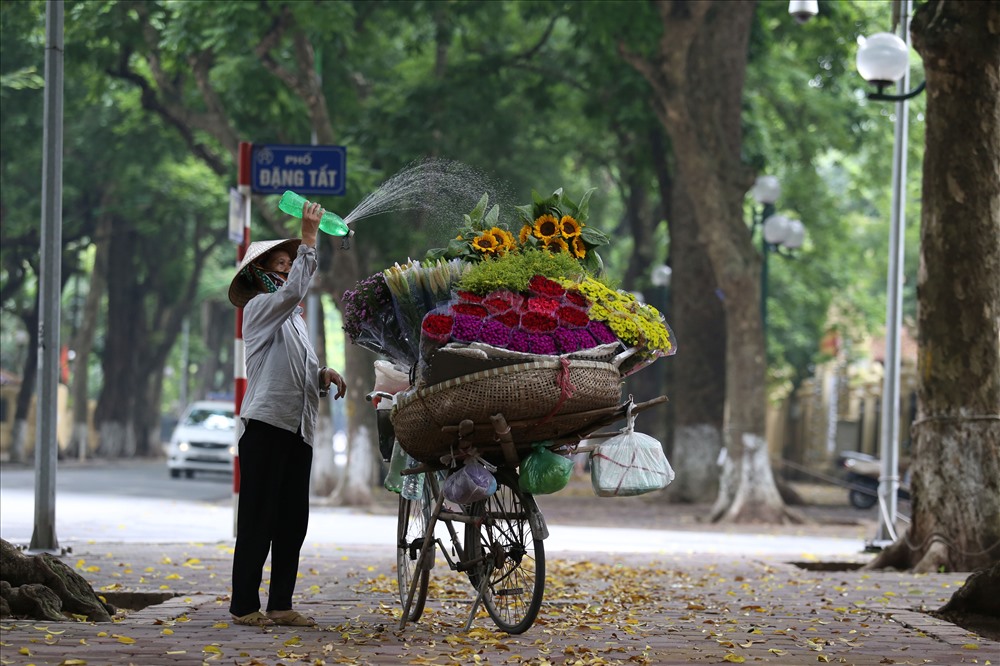 Hanoi in autumn (Source: laodong.vn)

High season is between July and August. During this time you may find that prices of hotels and flights to and around coastal areas increase by as much as 50%, so booking in advance is key. Weather-wise, expect everywhere but the far north to be humid and extremely hot, with temperatures regularly sitting between the high thirties and low forties. Rainy season punctuates summer, usually falling for one month around August, where downpours are daily and regular.


Shoulder season lies between December and March. The country's largest holiday, Tet Festival (or Lunar New Year) falls around this time; expect the entire country to be on the move, along with closed monuments and attractions, transport irregularities and other closures. In the south, the weather remains sunny and warm, however temperatures in the north can get quite chilly indeed, and central heating is not commonplace.


Low season is between April and June and September to November. In our opinion, these are the best times to travel Vietnam. Weather is generally warm and pleasant, prices are reasonable, and there are no major public holidays. However, typhoons can lash the central and northern coastline until November.


Do I need travel insurance for Vietnam?


In short, travel insurance is not mandatory for entry to Vietnam, so no. However, it is recommended for any international traveler to have a basic policy in place, should the worst happen. Vietnam is a relatively safe place, and rates of violent crime are amongst the lowest in the entire world. However, it is also a country blessed with many amazing hikes, trails, and other areas where creepy crawlies may bite, or where you could fall and hurt yourself (like anywhere on earth), so, it's always better to be safe than sorry. Of course, if you're planning on renting a motorbike, you will need an international drivers license and decent health and travel insurance.


Entering Vietnam: things to know


The visa situation for Vietnam differs tremendously for each nationality, and it changes regularly. Our advice is to always check your nationalities visa conditions before travel. Not all nationalities need a visa to enter Vietnam for a short time, but most do. Generally, visa exemptions last for a period of 15 days, and the standard length for a tourist visa is 30 days. If you are from a Western country and were planning on staying for more than 15 days in Vietnam, you will have to apply for an invitation letter in advance. These are easy to obtain from a travel agent or online, and should cost you no more than 25USD.


Tourist visas are usually issued for either 30 days, which costs 20 USD, or for 90 days, which can be anywhere from 25-70 USD. If you are a US national, you're able to apply for a one-year tourist visa.


Visa Exemptions (See our visa exemption guide for 2019)


At the time of writing, the following nationalities will not need to apply for a Vietnamese visa, for the noted number of days. As we mentioned before, always double check the visa requirements of your nationality before traveling to Vietnam to ensure the most up to date information.


Myanmar, Brunei: 14 days
Belarus, Denmark, Finland, France, Germany, Italy, Japan, South Korea, Norway, Russia, Spain, Sweden, UK: 15 days
Philippines: 21 days
Cambodia, Indonesia, Laos, Malaysia, Singapore, Thailand: 30 days

Where to go for first time visitors to Vietnam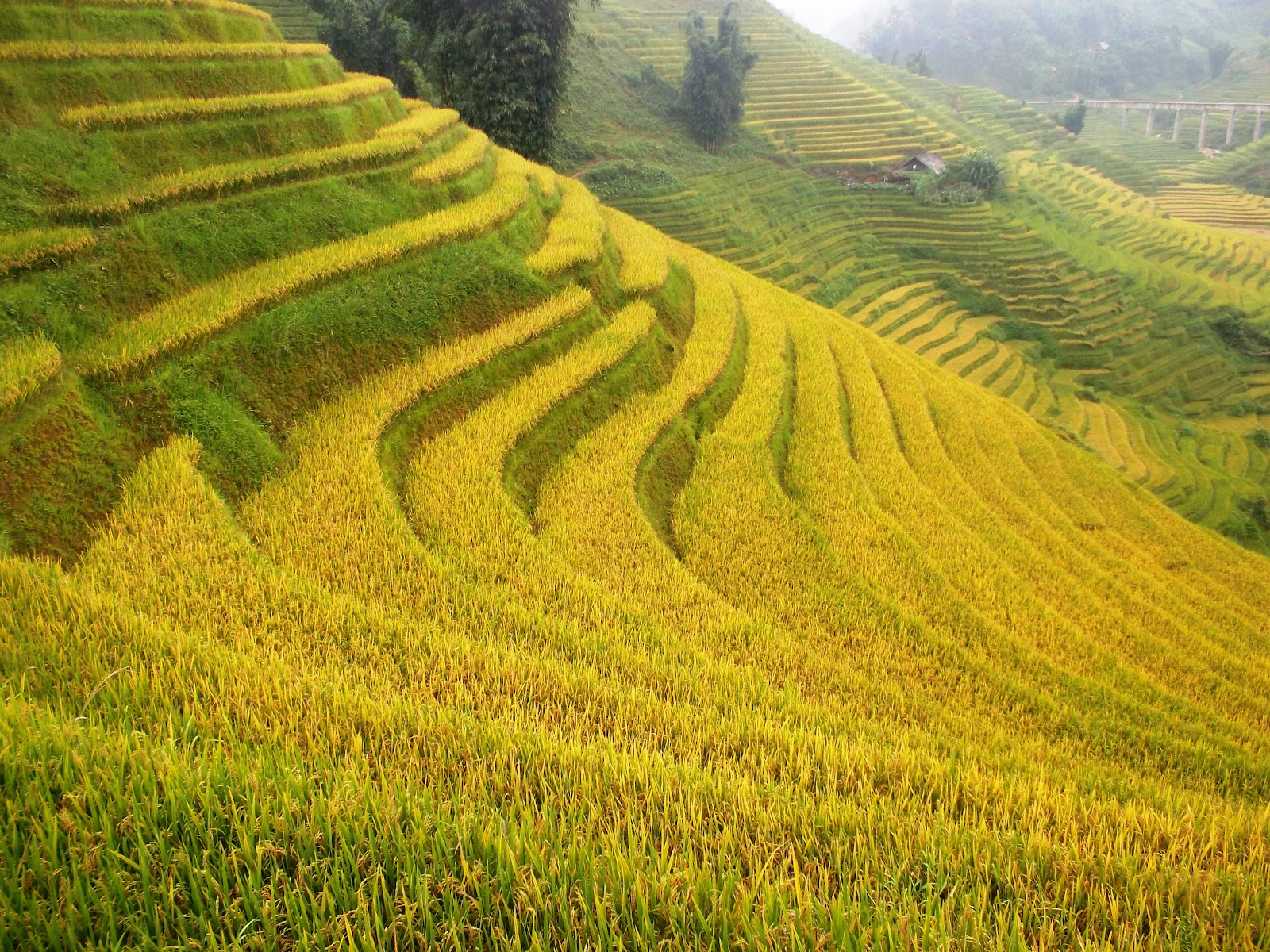 Sapa, Vietnam in October


SAPA:


Sapa is the premier destination of Vietnam's mountainous north-easterly region. It blends the relatively new; increasingly modern hotels, English-speaking villagers and improved infrastructure, with the ostensibly ancient. Sapa is home to a handful of Vietnam's last remaining ethnic minorities, some of whom have inhabited these lands for thousands of years. Their hand stitched clothing, often in bright and colorful patterns, are what they're best known for outside of Sapa, and in modern times have begun selling their garments commercially in the many (ethnic) markets surrounding the Sapa region.


HALONG BAY:


Second only to Sapa, Halong Bay is potentially Vietnam's most iconic region. Comprised of almost 2,000 islands and 59 (discovered) caves, the name Halong Bay comes from ancient Vietnamese, meaning 'dragon's tail'. And, it's easy to see why; karst limestone peaks soar from the bay's sparkling turquoise water, creating an incredibly dramatic landscape befitting of its name.



What to do: Take a Boat Trip



There's no better way of seeing Halong Bay than by boat. Day tours are possible from Hanoi, and can be as little as 30 USD including transport from Hanoi's Old Quarter, usually with lunch cooked on board. However, if you can spare the time, we recommend taking a multi-day tour. With two days or more, you will have enough time to see, and enjoy, many of the secret beaches, hidden grottoes and magical islands that have earned Halong Bay its title as a UNESCO World Heritage Site. The bay has recently been named among world's 35 most beautiful natural wonders.



HANOI


Hanoi, Vietnam's buzzing capital, is in fact one of the most ancient cities on earth. Nestled in the aforementioned Red River Delta, Hanoi is riddled with history; from its ancient Old Quarter that's thought to be over 1,000 years old (with a few of its trees being even older), to a more modern history, reflected in the French colonial cafes and embassies, Soviet inspired cultural buildings and modern high-rises. This is a city of peaceful pagodas, unique museums and sizzling cuisine; all of which display the multiple influences expressed within Hanoian history.



What to do: Cooking class



The best way to get to know Hanoi is by understanding its food. Hanoi's cuisine has a rich history and is starting to make it big across the globe. Of course, the first thing you'll learn to make at any cooking class is the Vietnamese staple dish; pho, however bun cha (barbecued pork belly and meatballs served with thin rice noodles), spring rolls, and a perfect Vietnamese coffee are all great recipes that you're likely to learn. We recommend checking out Apron Up cooking class, who also offer an insightful market tour.



HUE


The Imperial city of Hue is situated in central Vietnam, and is famed for its historic buildings and tombs. The city was the seat of the mighty Nguyen Empire and served as the national capital from 1802 to 1945. Hue has seen huge rejuvenation in recent years; party due to the government's efforts to restore the imperial citadel, and partly due to a booming tourism industry with just the right concentration of nightlife. Due to its imperial past, Hue is also known for its luxurious cuisine, borne out of the finest chefs moving to Hue to appease the emperor. Hue's food is known for its bold flavors, intricacy and debaucherous combinations of meats. The prime example of this is possibly the city's most famous dish; bun bo Hue, pho's meatier, spicier, bolder and more fragrant cousin.



What to do: Explore the city's ancient citadel



Given its crown as a UNESCO World Heritage Site in 1993, the sprawling grounds of the imperial citadel take an entire day to navigate. Recent efforts have been made by the government to restore its crumbling facades, and great pains have been made to provide myriad foreign language tours, as well as galleries of fascinating old photographs which depict the citadel in its former glory. However, the occasional pile of rubble or decaying building; still displaying bullet holes from the fighting that took place here during the 20th century, show a different side of Hue's history that shouldn't be ignored.



HOI AN


Hoi An is best known for its UNESCO World Heritage old town; a colorful mix of the nationalities brought to the city during its time as a port. Here you will find ancient temples, ornate Japanese bridges and rustic French colonial terraces, laced together by a collection of scenic canals. Ostensibly Vietnam's most picturesque town, only two kilometers from Hoi An old town lie a series of gorgeous, clean beaches, each with their individual charm and reason to visit.



What to do: Get something tailored



People flock from all over the world to get garments tailored in Hoi An. Many tailors have passed their stores on from generation to generation over the centuries, with fabrics being shipped in from all over Asia. However, as the town's name has grown and the demand for tailors risen, so too has the infiltration of less professional, more 'tourist-friendly' tailors that will knock something up for cheap, very quickly. Only a few tailors are well-renowned for their attention to detail and Be Be Tailors is one of them. Despite only being less than a decade old, this family run establishment has already earned itself a reputation as one of the finest tailors in all of Hoi An.



MUI NE


Mui Ne is a coastal town in Southeast Vietnam, situated on Vietnam's eastern coast. It is favored by domestic, and increasingly international tourists due to its palm-lines stretch of sandy beach, temperate climate and suitability for water sports such as kite surfing, sailing and, in particular, windsurfing. Due to its proximity to Ho Chi Minh City, it's a poplar weekend getaway town and in recent years boasts a healthy strip of hotels, restaurants and bars.



What to do: Sledging on sand dunes



By far one of the best ways to make the most of Mui Ne is by paying a visit to the sand dunes. The red sand dunes are located just outside of Mui Ne, and are a fantastic place to watch the sunset over the sparkling blue water, as well as trying your hand at sledging down the dunes. Plastic sleds can be rented on the site, but remember to check the price beforehand.

The white sand dunes, located around 25 kilometers from Mui Ne central are much bigger, and generally more impressive to look at. As well as taking pictures and exploring the sand dunes on foot, dune buggies are available to rent for around 20USD per day. Small stands selling drinks and snacks are dotted around the pine trees surrounding the dunes, making for the perfect spot to get out of the sun for a minute or two.



HO CHI MINH CITY


Ho Chi Minh City, known as Saigon to locals, is Vietnam's ultimate city. Not only is it the country's largest, but it also acts as Vietnam's economic and commercial hub, and boasts some of its most fascinating cultural relics. As well as history; food, stalls and crafts line every street; Saigoners are fiercely proud of their culture, cuisine and their city. And, there's a lot to be proud of, as all three elements are and have been the vibrant, energetic and focal hub of the entire nation.



What to do: museums


Considering the city's incredible history, it's no surprise that it has the best museums in the entire country, maybe even in the whole of Asia. The War Remnants Museum is perhaps the city's finest; a sobering and excellently curated museum which stands as a testament to the bravery of the Vietnamese during the 20th century. The outer grounds display authentic tanks, planes and other war vehicles which were used against and by the Vietnamese during its tumultuous 20th century. Exhibits documenting the human horrors of this era sit inside the museum, and give voice to a side of history that many Westerners rarely get to hear.

How to get around Vietnam


Vietnam is an astonishingly easy place to get around. Its sophisticated public transport system links the most remote ethnic village of the north to the smallest fishing village off the coast of the south, and is amongst the cheapest in Southeast Asia to boot.


Planes: Both large international and modern domestic airports connect Vietnam with the rest of the world. Every small city will have its own airport, even some large towns, and new routes re opening at a frantic pace. For example, as of late 2017, you can fly direct from London to the tropical island of Phu Quoc! Flights from one city to another can be extremely cheap; around 20USD, and no flight is longer than a couple of hours.
Buses: Vietnam has an extensive and extremely efficient bus network. Whether you choose the slightly more expensive touristy open buses or even local public buses, bus travel is cheap, fairly reliable and usually very comfortable indeed. With the latter option you do run the risk of sharing the bus with large quantities of fruit or luggage, but for an unimaginably cheap price cross-country. Journeys lasting ten or more hours, taking you from one end of the country to the other, can be as little as 10 USD.
Trains: The trains in Vietnam are delightfully retro, surprisingly comfortable, and a great way to sit back, relax, and watch Vietnam's staggering landscape to pass you by as you rumble along to your destination. Soft sleeper is the most comfortable option, with four beds in one cabin, meaning that you can comfortably sit on your bed and eat, chat, or play cards. Tickets for soft sleeper go for around 77 USD for one-way travel between, say, Hanoi and Hue, whereas hard sleeper are around 30USD less, and only marginally less comfortable, with six beds per cabin.

Unique experiences you won't find anywhere but Vietnam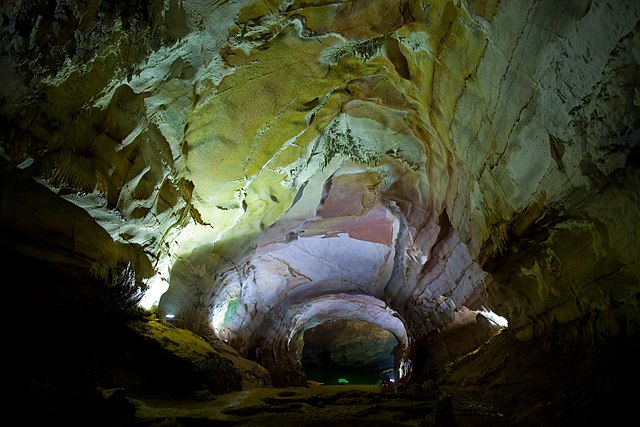 Phong Nha National Park Caves (Wikipedia)

Despite its size, Vietnam's staggering landscape offers not one, not two, but literally scores of experiences that you can't find anywhere else on planet earth. What's more is that as more and more people realize the potential of Vietnam, artists, investors and designers flock to the country, transforming it into one of the most interesting and up-and-coming countries in the entire world. Here are five unique experiences you won't find anywhere but Vietnam!
World's largest cave in Phuong Nha: Phuong Nha National Park, located in central Vietnam and easily accessible by both train and bus from Hue, is home to the world's largest natural cave. Only being discovered recently, the cave complex is thought to be home of potentially hundreds of undiscovered caves and grottoes, filling the gorgeous, fascinating park with mystery.
Prehistoric landscapes of Halong Bay: If you've seen old paintings of Vietnam, with impossibly thin, jagged, forested mountains jutting out of a sparkling bay –that's Halong Bay. This is, understandably, one of Vietnam's most visited natural areas, and boat trips of either one or two day durations re popular throughout the year. Halong Bay is really a place so beautiful that it is to be seen to be believed, and at only three-hours via bus from Hanoi, there's no excuse not to.
Walk in the hands of God in Ba Na Hills: Danang, Vietnam's third largest and most modern city situated on its central coast, is somewhat famous for its bridges. For many years, whilst the city was developing, Danang's Dragon Bridge was essentially its only man-made tourist attraction; an impressive structure which glowed with LED's and spat fire every weekend. Then, in July 2018, the city's Golden Bridge was opened just outside the verdant Ba Na hills, round 40 minutes from Danang. This incredible bridge is comprised of two enormous stone hands, with a walkway suspended in between, jutting through the misty canopy of the surrounding woodland.
Visit the floating markets of the Mekong Delta: Known as 'Vietnam's rice bowl', the mighty Mekong culminates its 4,350 kilometer journey, starting as a trickle from a glacier in the Himalayas all the way to the southern tip of Vietnam. Through its long, life-giving journey, it has collected many minerals and nutrients which all serve to produce the incredibly fertile climate of the Mekong Delta region. Here you will find fruit, vegetables, plants, flowers and fauna that can be found almost nowhere else on earth, much of it displaced on the region's famous floating markets. Here, people buy, sell, chat and even live on the Mekong, bobbing up and down in a vibrant orgy of colors, noises and smells.
World's best windsurfing in Mui Ne: Mui Ne was once a quiet fishing village which saw little tourism, save for the odd crusty backpacker. Nowadays, the town boasts a fun commercial strip that runs parallel to the beach, perfect for tourists who want to come and have a lazy few days by the beach. When people first think of special things to do in Mui Ne, they think of the sand dunes – one red and one white, which are a veritable natural wonder in and of themselves (if we had space, we'd include them on our list as well!). However, Mui Ne also just happens to be a water sport paradise, an absolute must on any windsurfers bucket list. All throughout the year, the steady winds, warm weather and even waves make for the ideal climate for the sport, which is almost as beautiful to watch as it is fun to try!


Food and drinks


The Vietnamese food is that is fabulously complex, and endlessly diverse. Vietnam boasts more names for noodles than the British for rain, and identical sounding rice dishes may differ tremendously from north to south and from city to city. It may be a relatively small country by Asian standards, but it's long, thin shape means that the cuisines of Vietnam differ according to their climate, access to produce and history.


Comforting noodle soups, warm spices and meat all feature heavily in the north, where the weather is cooler and winters can be long. Down south you're more likely to find seafood, as well as more Southern Asian inspired curries and spices. Central regions of Vietnam are influences by their proximity to both the sea and mountains, meaning fresh, salty seafood and abundant chili dipping sauces. However, there are a few things dishes you can expect to see in all parts of the country.


Pho: It's almost impossible to walk down a street in Vietnam morning, noon or night without bumping into a crowd of hungry patrons slurping this infamous dish; which is gaining recognition all across the world. This noodle soup is comprised of a salty broth made from beef or chicken bones and stock, roasted onion, as well as warm spices such as cinnamon, cardamom and star anise, and then topped with fresh, flat rice noodles, coriander, spring onion, and then garnished with the usual table accoutrements.


Banh xeo: This crispy, fried pancake is certainly well loved by locals and foreigners alike, and stalls and restaurants selling the dish are ubiquitous across the country. The crepe is served bulging with pork, shrimp, and bean sprouts, eaten as is or wrapped in rice paper with fresh herbs, pickles and then dunked greedily into a peanut and fish sauce.


Oc: Best enjoyed with friends over a few cold beers by the side of the road, oc refers to platters of Vietnamese snail, crab, cockles, muscles, oysters and so on are cooked to order and served fresh and hot in a huge variety of ways. Friday and Saturday, particularly in the larger cities in the south such as Ho Chi Minh City are when oc is typically enjoyed.
Other Tips


Food: It is customary in Vietnamese culture to wait to be seated until the eldest person in the group has been seated. Chopsticks are to be placed on the rice bowl when you're finished and in-between mouthfuls – but never stuck up vertically in the rice; this signifies death.
Shoes: Shoes must be removed before stepping into homes, and occasionally offices and shops (just look for shoes at the threshold and follow suit). It is also considered rude to sit with the soles of your feet (in and out of shoes) facing people or sacred objects, such as Buddhist images.
Last update: 10 January 2019
Frequently asked questions
Why apply with us
3-5 working days processing
No Hidden Charges
Prompt Support via chat, email, phone
Accept Credit/Debit Cards
100% money back guarantee for declined applications
Apply Now